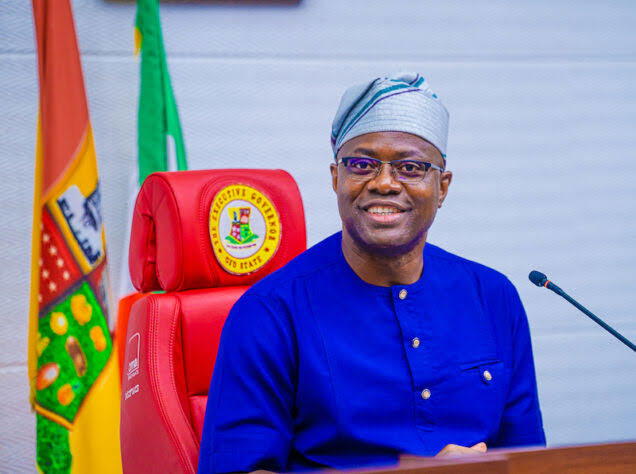 …Adelabu should align with Makinde now, await his time to be gov
A former governor of old Oyo State, Dr Omololu Olunloyo has described the administration of incumbent governor Seyi Makinde as excellent, calling on residents of the State to vote him in for a second term through Saturday's governorship election.
Olunloyo, who made this call while featuring on a Splash FM programme, on Wednesday, said he had seen a lot of innovations with the Makinde administration that he would want continued for another four years.
Continuing his adulation, Olunloyo described the Makinde administration as first class that should be allowed to continue.
He, particularly, called on Muslims and Christians to vote Makinde in the interest of good governance.
Speaking further, he called on Makinde's co-contestants including Senator Teslim Folarin of the All Progressives Congress (APC) and Chief Adebayo Adelabu of Accord to exercise patience and wait for their time.
Olunloyo, particularly, charged Adelabu to team up with Makinde for Saturday's election and bid his time to achieve his ambition to be governor.
"I have seen a lot of innovations; I am impressed by his (Makinde) administration. I think his administration is excellent. His administration is first class and I pray it is continued.
"Oyo people should vote Makinde. Some other candidates should exercise patience. Those aggrieved should know that their grievance is not as important as the great things that Makinde has done.
"I know Adegoke Adelabu even more than his son, Bayo Adelabu. Adelabu should join with Makinde and await his time.
"I am convinced that when we polish him up, the heritage he has in Adegoke Adelabu will come out. And he will come out as a bold politician who has a bold past and I think he should at one stage become what he should become. Teslim Folarin should also be patient about becoming governor."
While lauding Makinde on his strides governance-wise, Olunloyo said the reverse is the case politics-wise.
He chided Makinde for being carefree about holding together the coalition upon which he emerged as governor, stressing that Makinde had to polish his practice of politics.
"His politics is not as strong as his administration. He has to polish a few aspects of his politics. He has not been careful about holding together the alliance," Olunloyo added.