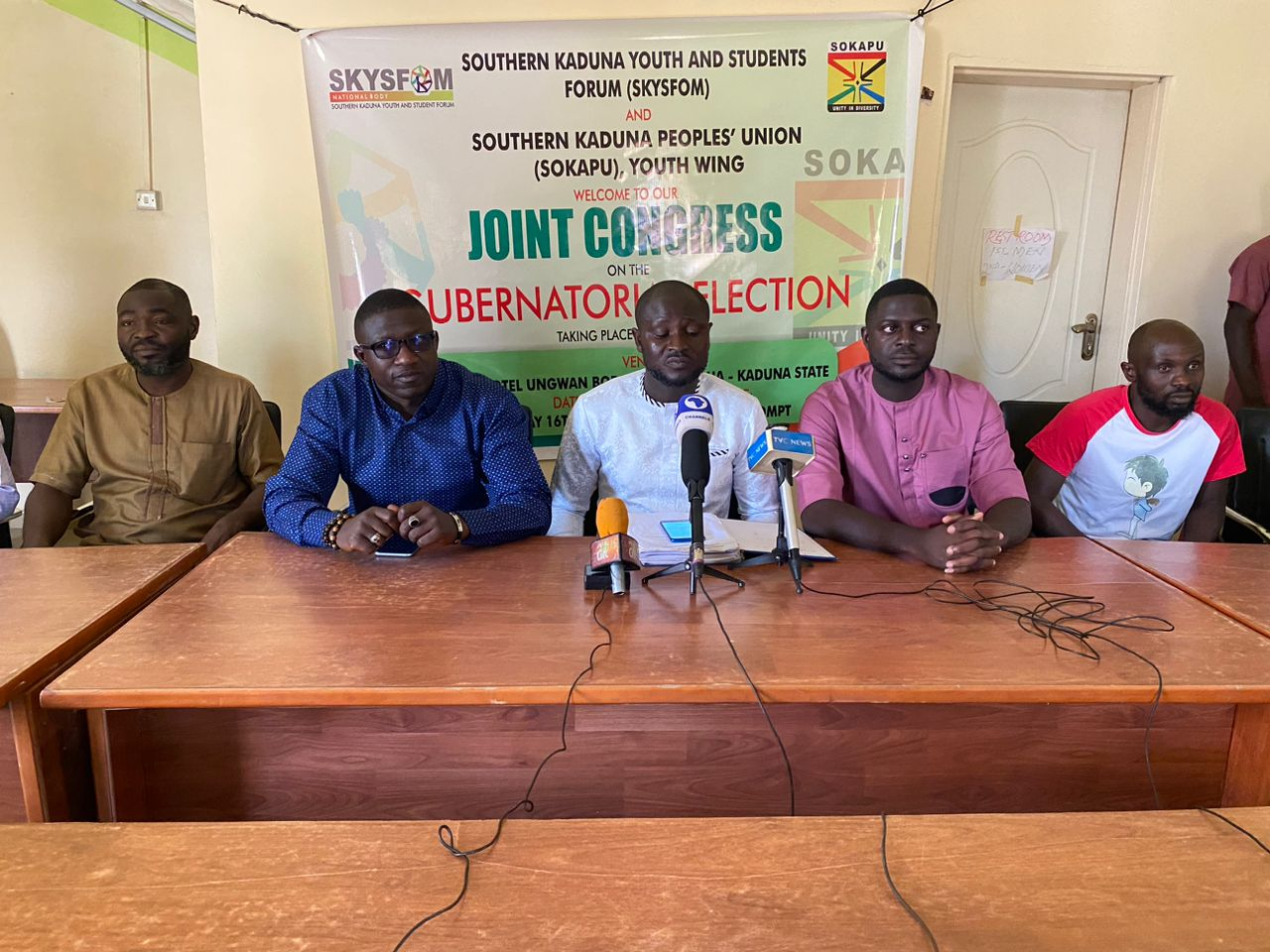 By Ibrahim Hassan-Wuyo 
Southern Kaduna People's Union (SOKAPU) Youth wing and the Southern Kaduna Youth and Students Forum (SKYSFOM), have endorsed the aspiration of Senator Uba Sani, gubernatorial candidate of the All Progressives Congress (APC) to occupy Sir Kashim Ibrahim House in Kaduna State.
The groups in a joint communique which was read by SKYSFOM  President and SOKAPU Youth Wing National Coordinator, Ernest Maidawa and Luke Augustine Gwazah respectively, after its congress held in Kaduna, said they have also resolved to mobilize Southern Kaduna youths through existing wards and local governments structures to ensure massive turn out and votes for Sen. Uba Sani of the APC come Saturday the 18th of March 2023.
The communique reads:"Ahead of the preparations for the Gubernatorial elections coming up on Saturday the 18th of March 2023, We the leadership and youths of Southern Kaduna with whom rest the responsibility of promoting and securing the collective interest and future of Southern Kaduna through deliberate actions and decisions under the umbrella of The Southern Kaduna Youth and Students Forum and The youth wing of the Southern Kaduna People's Union (SOKAPU) following a joint congress with all local chapters and branches duelling represented hereby resolved as follows:
"Following extensive deliberations, we the youths of Southern Kaduna under the umbrella of Southern Kaduna Youth and Students Forum -SKYSFOM and The Youth Wing of The Southern Kaduna People's Union SOKAPU unanimously adopts Dist. Senator Uba Sani as our preferred gubernatorial candidate ahead of Saturday's Gubernatorial election in Kaduna State this decision was born largely out of the proven records of the candidature of Senator Uba Sani as a serving senator of the 9th National Assembly and his abilities to taking independent decisions without fear or favour come what may"
The communique added:"we however resolved our confidence that Sen. Uba Sani will not toe the path of his predecessor when voted as governor in Saturday's elections.
"Lastly we have resolved to condemn the deliberate show of hate and segregation against one of our mothers Her excellency the Deputy Governor Dr. Hadiza Balarebe. while we acknowledge that every political party is free to adopt any strategy in it's quest to acquire power, we unequivocally condemn any attempt to exploit our difference in faiths and religious beliefs in the name of politics"
"As youth unions from Southern Kaduna, all we want is peace and unity first than any other thing," they said.