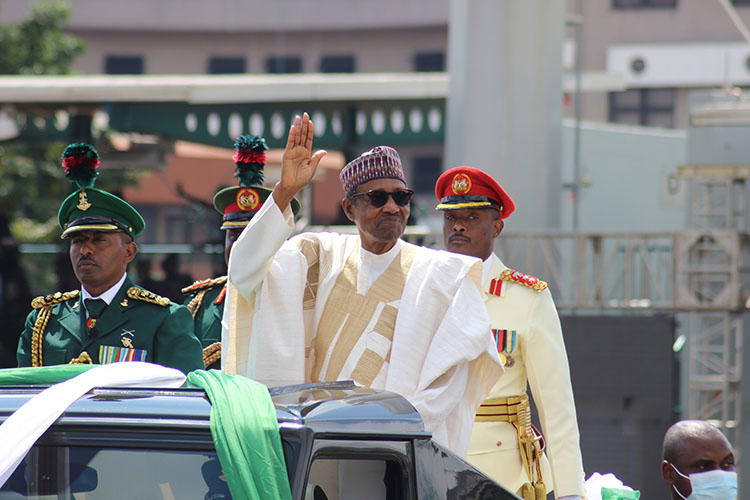 President Muhammadu Buhari on Tuesday said his administration worked with Nigeria's brightest women and he is proud of the feat.
In a statement issued on Tuesday to commemorate International Women's Day (IWD) 2023, Buhari said his administration has prioritised women's and girls' empowerment through innovation and digital skills.
International Women's Day is celebrated on March 8 annually.
Speaking on the 2023 theme, 'DigitALL: innovation and technology for gender equality', Buhari said women in leadership positions have contributed significantly to the development of the country through hard work and determination.
"President Muhammadu Buhari joins Nigerian women in celebrating the International Women's Day (IWD), observed on March 8, recognizing the invaluable role women have played in advancing the progress of the country since independence," the statement signed by Femi Adesina, presidential spokesperson, reads.
"The president salutes the hard work and dedication of Nigerian women working tirelessly and achieving results in different fields of endeavor, from those sacrificing daily in the markets and farms to train the next generation of leaders, to those breaking limits in education, sports, medical field, arts, entertainment and even in politics, where they are still largely under-represented.
"The president is proud to have worked and associated with some of Nigeria's brightest women in his cabinet, government and the international community.
 "He thanks the amazons who have served meritoriously as partners in the progress witnessed on the political, economic and social fronts."
The president said his government is committed to "promoting gender equality, respect for the rights of women and working conscientiously to remove all barriers that prevent Nigerian women from realising their universal rights".
Buhari said his government has established a ministry focused on using the digital economy to promote gender equality.
"He notes that, against all obstacles, these women in leadership positions have delivered in a society still largely dominated by men," he added.
 "As Nigeria builds on the successes of the digital economy sector, which is the most successful in the diversification of the nation's economy, and the start-up act, which creates endless opportunities for Nigerians in the technology space, the president trusts that women and girls in the country will have access to equal opportunities, live their dreams and contribute immensely to the development of the country."