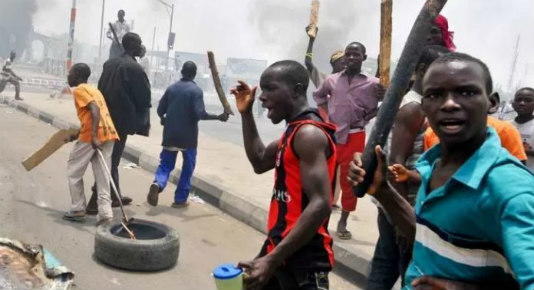 file photo to depict incident
By Evelyn Usman, LAGOS
Pandemonium broke out, yesterday, at Omonile, Abule-Ado community in Amuwo Odofin Local Government Area of Lagos State, after thugs launched an attack on residents of the area, leaving many of them injured.
Some shops were destroyed while windscreens of cars parked on the long stretch of the area were shattered.
Vanguard gathered that the invasion of thugs was a spillover of the violence that characterised the governorship and state House of Assembly elections in the state on Saturday.
A resident, who gave his name simply as Agwu, said: "During the election on Saturday, thugs invaded some polling units to snatch ballot boxes. They were chased by another group of thugs. Those who snatched the ballot boxes ran into some houses from where they escaped. The second group of thugs destroyed the houses where the ballot box snatchers ran into, in anger and frustration.
"This morning (yesterday), we heard gunshots from the Omonile end of Abule-Ado. Armed thugs numbering over 50, invaded the community. They shot on sight anything they saw and destroyed all the vehicles parked on the road.
"They accused us of being perpetrators of the previous day's attack and for daring to chase them when they snatched the ballot boxes. We had no choice but to come out to face them. Some of us were shot in the process."
A video which went viral on social media, showed the residents, both males and females, holding sticks and pestles to defend themselves.
Another audio of an unidentified man, alerting Nigerians on the invasion of the community was sent within and outside Lagos.
The audio voice which was in Igbo dialect frantically called on security agents to come to the aid of residents of the area.
According to the audio recording, "Please, we need help at Omonile, in Abule-Ado, behind Trade Fair. The Yoruba thugs are shooting Igbos here. Please reach out to Dr Patrick Ifeanyin, and call the Police, and Army. Those shot have been rushed to the hospital."
Teams of policemen and military personnel were reportedly drafted to contain the situation.
A spokesman for Lagos State Police Command, Benjamin Hundenyi, said two persons have been arrested, adding that normalcy had been restored.
He explained, "Intra-community fight broke out in the area earlier this morning resulting in the destruction of property. Owing to the timely arrival of the police, no life was lost and no property was razed as widely claimed.
"Two persons have been arrested and an investigation has commenced into the matter. Meanwhile, police officers remain on the ground to prevent further breakdown of law and order."