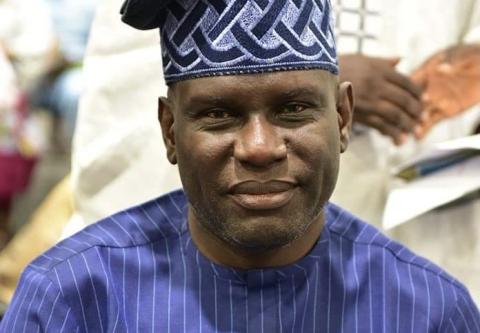 The former Ondo State Commissioner for Local Government and Chieftaincy Affairs, Adegboyega Adefarati has been removed from the published list of House of Representatives members-elect.
Remember that Adefarati was declared the winner of the election for Akoko South West and Akoko South East federal constituencies in Ondo state by the Independent National Electoral Commission (INEC).
Adefarati, the son of former Ondo governor Adebayo Adefarati, received 25,872 votes to defeat Peoples Democratic Party (PDP) candidate Gbenga Kolawole, who received 18,403 votes.
Ibukun Emmanuel, the state's Returning Officer for the National Assembly election, announced the result, saying Adefarati had been elected to the 10th assembly under the All Progressives Congress (APC).
However, Adefarati was not listed as a member of the 10th National Assembly in the newly released list of members elected on Tuesday.
The reason for the delisting, according to INEC, is a February 17 court order that invalidated the party's primary, which produced Adefarati as the candidate for the constituency.
Recall that aspirants in the APC primary election for the constituency, Segun Ategbole and John Adanike, had approached the court.
In separate lawsuits, the aspirants claimed irregularities in the election and sought to be declared election winners.
In addition, Zenith Labour Party (ZLP) candidate for the seat, Ogunleye Teloye, had filed an originating summons with the court.
Ogunleye asked the court to bar the APC from running in the election due to the party's failure to hold a primary election 180 days before the parliamentary election.
The presiding judge, Justice T.B. Adegoke, however, ruled that the APC did not have a candidate for the House of Representatives election because the party did not hold a valid primary election.
Adegoke barred the APC from holding a new primary election, citing the 180-day window provided in the Electoral Act 2022.
In addition, the judge barred INEC from accepting the names of Ategbole and Adanike, or any other name from the ruling APC.
Adefarati was also barred by Justice Adegoke from running as an APC candidate in the February 25 election.
In addition, the name of the embattled House of Representatives leader, Alhassan Ado Doguwa, was removed from the list of election winners by INEC.
The declaration of Doguwa as the winner was made under duress, according to INEC.