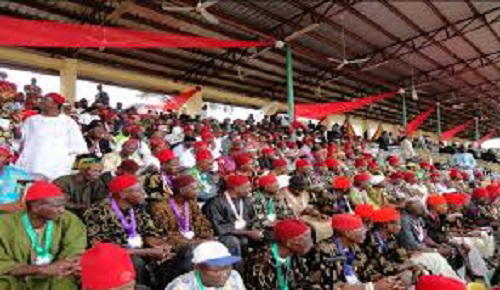 . Blood knows no tribe – Archbishop Opoko
.Challenges Igbo govs to develop S'East
. Signs Nigeria not yet a nation – Mazi Ohuabunwa
. Ndigbo need to be subtle – Kalu Idika Kalu
By Steve Oko
The unprovoked attacks against Igbo interests in Lagos in the wake of the February 25 presidential and national assembly elections have elicited reactions from eminent Igbo personalities, with the respondents describing the mayhem as barbaric and unnecessary.
Methodist Archbishop of Umuahia and former Secretary of Conference, Methodist Church Nigeria, Most Rev. Dr. Chibuzo Raphael Opoko, has cautioned those behind the barbaric attacks to retrace their steps because " blood does not know tribe if it begins to flow".
This is as a former National President of Pharmaceutical Society of Nigeria, PSN, Mazi Sam Ohuabunwa, has said that the attacks are a confirmation that Nigeria is not yet a nation.
He regretted the failure of Nigeria Leaders to weld the heterogeneous tribes in the country into one homogeneous nation where every ethnic group would have a sense of belonging.
" It's a shame that in 2023, over 50 years after the civil war, we are still having reprisals against a certain group of people. In 1967, the coup staged by Major Nzeogwo and other young Nigeria soldiers was termed Igbo coup. So, there was a pogrom against the Igbo that led to the civil war."
In his response, former Minister for Finance, Kalu Idika Kalu, condemned the attacks against the Igbo, and advised Ndigbo to be more subtle.
" They want to play ethnic card but we should not fall for the temptation. However, let's be a little bit more subtle. We need to cultivate subtlety as a people to survive.
" Some of us who know their Leaders can continue to intercede. They know that some of us are not amenable to these attacks and abuses against the Igbo.
" We will keep talking to some Yoruba Leaders like Pa Adebanjo and others."
Archbishop Opoko who spoke with Vanguard in Umuahia, totally condemned the dastardly act and warned the perpetrators and the self-centered politicians sponsoring them to pull back to avoid plunging the country into unnecessary anarchy.
" I sue for peace because when blood flows it does not know tribe, race, region nor religion.
" The politicians are taking us for a ride. Some of them think that we Nigerians are fools and idiots. We caution everyone to have a restraint because when they cause revolution or anarchy in this place, they will not have any place to hide. It will certainly consume all of us even our children we think are in safe heavens. They will all have no future in this country."
Archbishop Opoko challenged South East Governors to chart a regional development programme that would fast- track development in the zone so that Ndigbo could gradually begin to invest at home and stop being easy targets of attacks outside South East.
" Our South East Governors need to sit up. They need to put in place a South East strategic integrated programme for road and rail network, industry, Agriculture and development of River Ports in Onitsha, Ukwa and International airports.
"With this in place Igbos who have investments outside can sell them off and relocate to the South East so they can enjoy safety."
"Turn the South East into a Silicon Valley. We are talented. We are gifted. We are endowed. We are blessed. We have capacity, knowledge and skill.
The cleric wondered why Ndigbo have always been made easy targets of attacks in Nigeria despite their peaceful disposition and heavy contributions for the development of the country and great contributions in Internally Generated Revenue (IGR) in the states they dwell for business.
" Today a Yoruba man is running for election in Abia State and nobody has attacked Yorubas living in the state. The Igbo are the only people who can get anywhere in the world and build it as if it were their home.
"Which other tribe has contributed like the Igbo in developing Lagos? Ndigbo are in every part of Nigeria going about their businesses peacefully. Why are they being hunted all the time?"
Bishop Opoko who is the Chairperson, Social and International Affairs Committee of World Methodist Council,
cautioned the masterminds of such senseless attacks and their foot soldiers to have a rethink so that they do not plunge Nigeria into anarchy.
He called on decent Yoruba Leaders and patriots to speak out and rein in the apostles of Igbophobia before it gets out of control.
" We are calling on decent Yoruba Leaders to call their children to order. This can escalate, and if they provoke Igbo, and Ndigbo decide to retaliate, Lagos may be drowned.
" Unfortunately, some of the people behind this barbaric acts may not even be Lagosians. "For those who are being used as thugs, I want them to know that many of their sponsors have their own children living and studying overseas. Why not ask the politicians to go and bring back their own children to join in the thuggery?
" Above all, we must not forget that there is God, and everybody will pay for whatever one does someday."
Archbishop Opoko further said that the attacks against Igbo for their political choice was meant to push them into renewed agitation for self determination and provide another excuse for further attacks by security agencies. Ndigbo will not fall for this by the grace of God.
" They want people to start agitating for Biafra and use it as excuse to start killing the youths. They made every effort to stop voting in the South East but people defied it by the grace of God and came out massively to vote.
'Obidients' and indeed a lot of us saw in Peter Obi a new hope, a promise and a future. We saw in Him as a catalyst for a new and prosperous Nigeria, hence his overwhelming choice. Ndigbo should not be stereotyped for joining other Nigerians to vote for Peter Obi. Are these actions against Ndigbo a consequence of envy for their industry, entrepreneurship mind set and spirit?
" The shock they had was the massive turnout in the South East during the elections. They tried to suppress the votes. Look at how thousands of PVCs developed wings in Anambra and flew away from INEC office where they were kept and landed inside the bush."
Archbishop Opoko further said that those who voted for the Labour Party presidential candidate, Peter Obi, were not only Igbos, as he also swept the polls in areas with high concentration of Yoruba and other nationalities in Lagos.
" Didn't Alimosho and some other areas dominated by Yoruba also vote for Labour party? It's a ploy to provoke Igbo to retaliate, and they will turn it as if Obi Movement is Igbo Movement. But I appeal to Ndigbo to be calm; to exercise great restraint and be patient. Those behind this evil will never get what they want!"
Archbishop Opoko further said Ndigbo did not deserve any victimisation for voting massively for Obi, arguing that when Yorubas sons and people from other tribes contested in the past they equally got massive support from Ndigbo.
" MKO Abiola even with Moslem-Moslem ticket came, Ndigbo voted massively for him; Obasanjo came, Ndigbo voted massively for him. Jonathan came we voted massively for him. Why is it now a crime if Igbo voted for Obi? Is Obi a product of Igbo Party?
" They thought the Obidients are only Igbo. No it's not true. All Nigerians are behind the quest for a new Nigeria. Look at the Labour Party governorship candidate in Lagos who is a Yoruba from Lagos but they are now denigrating him because he married from Igbo.
"They said that he cannot speak Yoruba. Former Governor of Ekiti State is vocal on this! A former Governor? This is sad! Is speaking Yoruba language a requisite in the constitution for becoming a Governor of Lagos State?
"Non Lagosians and non speaking Yoruba folks have been Governors in Lagos. Is this how a country behaves?
" In Poland, a Nigeria was elected into their Senate. In London, an Indian is their Prime Minister. In Abia State a Young Yoruba man is contesting under Labour party for the House of Assembly and he is being massively supported. Does he speak Igbo?
Archbishop Opoko expressed shock that a known thug in Lagos whose children reside abroad is now enjoying security escorts and being celebrated while innocent Nigerians are being attacked, maimed and killed by thugs.
"This is certainly not the new Nigeria, Peter Obi, Obidients and many Nigerians are praying for. These senseless narratives must change. We need a new Nigeria!"
Mazi Ohuabunwa expressed bitterness that after it seemed that the Igbo were bouncing back from the ruins of the civil war, another wave of onslaught is being sponsored against them.
He argued that Ndigbo through their enterprising spirit, had contributed immeasurably for the economic growth of Nigeria more than any other tribe.
" That's why when they persecute us about Biafra, I ask them: which people love Nigeria more than Igbo? We live in every part of Nigeria more than any other tribe. The cry for Biafra is the cry against marginalisation and oppression.
Mazi Ohuabunwa regretted that ethnic hatred and bias were being promoted against Ndigbo for simply making their political choice.
He, therefore urged Yoruba Leaders to rise against the ugly development.
" I call on Leaders of Nigeria especially from the South West to speak against it.
We voted in the past and somebody from the Hausa/ Fulani won an election and the Igbos did not kill anybody; somebody from Yoruba won and the Igbo did not kill anybody; we voted and somebody from Ijaw and he won, the Igbo didn't kill anybody.
" Now because a prominent Igbo man has re-written the political history and evolution of Nigeria through creating a new Nigeria movement that is ravaging the nation.
Do, why will that be an opportunity to destroy Igbo lives and property? I hope and pray that rational sense will overtake this emotional retrogressive outbursts. Let everybody be restrained, the country needs unity."
Nothing that any ethnic backlash will not be good for Nigeria, Ohuabunwa called on Leaders of various nationalities in the country to speak out against the monster.
Ohuabunwa further noted that Peter Obi was not voted for by the Igbo alone, wondering why the Igbo would be isolated for attack just for making a political choice.
" Peter Obi won in 12 states. South East is only. They should know that an idea whose time has come, nobody should subvert it".
Kalu Idika Kalu further argued that the support for Obi cuts across the entire Nigeria and should not be reduced to ethnic agenda.
" I cautioned one Shehu from US when he said that IPOB people are the ones shouting Obi. That's not true. Obi's movement cuts across the entire country. It's a movement for a new Nigeria. It has not tribal attachment ".