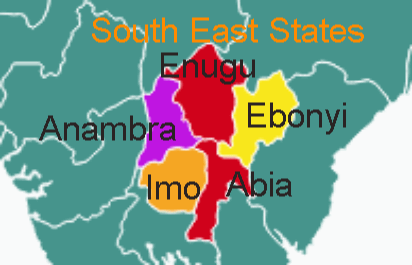 .urge citizens to reject calls for Nigeria's disintegration
By Luminous Jannamike, Abuja
EMINENT statesmen from the Southeast under the aegis of Igbo Elders Consultative Forum, IECF, on Monday, charged Christian and Muslim clerics to lead the fight against inciteful statements by unscrupulous elements in order to rescue the country from the precipice.
The Igbo elders noted that if the religious leaders took up the fight, they would help to rescue the future of the nation from the hands of those they described as 'men without consciences'.

Chairman of IECF and former governor of Anambra state, Chief Chukwuemeka Ezeife, who decried the state of affairs in the nation, called on Nigerians to reject calls for the disintegration of the country. 

He spoke at a press conference in Abuja with the theme, 'Nigerians: Prepare for the New Nigeria'.
Ezeife said, "I call upon all Nigerians to say no to the disintegration of Nigeria, say no to rigged president election, no to gubernatorial and House of Assembly elections, no to incitement for ethnic conflicts.
"Our pastors, imams, bishops and sheikhs should lead the fight against all agents of corruption, conscienceless, lack of social values, and ungodliness. We must reject misleading inciting statement."
The octogenarian, while condemning the recent cases of ethnic profiling in parts of the country during the electioneering season especially in Lagos, expressed optimism that a new Nigeria is in the horizon
According to him, "If we remove free voting, we automatically remove democracy. Nigeria of 25th February and 18th March must remain in the past and never to be revisited.
"The truth said a thousand times remains the truth. Our country, Nigeria, is a gem of a country with super abundant resources. 
"Our country is designed, by God, for unmatched greatness and super powerdom, in order to raise the dignity and respect of all blacks on earth. 

"Yet today, Nigeria is described as the poverty capital of the world because of man's mess-up, nothing works. We have become a perfect example of a failed country, a failed nation. 2023 elections have brought out the worst in us. 

"Mothers standing stark naked, bleeding from the heart as they lament the collapse of everything in Nigeria. 
"We should begin to thank God as we see the glimpse of a new Nigeria. Optimistically, I see a New Nigeria. 
"The alternative is the extinction of Nigeria, and it is as near as the New Nigeria. The existence of rascals among a person does not suggest that the people are rascals."