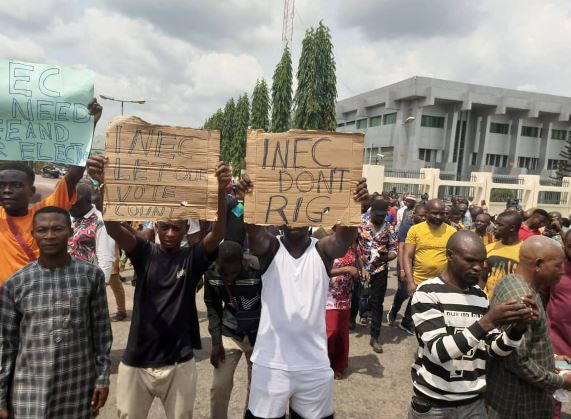 By Steve Oko
Heavy protest erupted Thursday afternoon at the Abia State headquarters of the Independent National Electoral Commission, INEC, as aggrieved residents numbering about 2000 besieged the entrance gate to the INEC facility.
The protesters numbering about 2000 who came from every part of the state said they came to register their worry over alleged plots to rig the March 18 governorship and house of assembly elections.
They told INEC not to collude with anybody with an intent to manipulate the outcome of the polls.
Speaking on behalf of the protesters, Comrade Bright Nwachukwu, tasked INEC to ensure the votes of Abians count as they would not tolerate any attempt to subvert the people's will.
" On no account should we accept any electoral process that is fraudulent! We wouldn't accept any missing election materials including ballot papers and result sheets.
" In the last election we heard that in some places results were written on duplicate sheets as INEC adhoc staff claimed that they did not have the original copies. Such can't be again!
" All we want is a free, fair and peaceful election. We expect a new dawn in Abia because if we miss it now our children will ask us questions.
" Let the parties allow Abians to decide who will govern them on Saturday.
" We don't care what the government in power is planning to do. We can assure them that our eyes are open. We watch with eagle eyes.
" INEC should be allowed to do it's job. Nobody will manufacturer results from anywhere again.
" We can see from the body language of some people that they are back to their familiar terrain of rigging.
" Already on the social media one of them is threatening to kill anybody that votes against PDP governorship candidate and fry his kidney. We want him prosecuted immediately.
" We also want to assure these agents of death that in as much as we are for peace, they should not forget that nobody has the monopoly of violence. Nobody is more Abian than the other".
Responding, the Acting Administration Secretary of INEC , Abia State, Chief Clement Oha, thanked them for their peaceful conduct and assured them that the commission would provide a level playing ground for all the contestants.
The INEC boss who assured that all the voting materials would be personally signed by him, said the electoral umpire had also taken steps to fix some of the challenges recorded in the previous elections.
He assured Abians to have confidence in INEC for a free, fair and credible polls in the state.
Later in an interview, Head Voter Education and Publicity, Mrs Rebecca Jim, said the sensitive materials had started leaving the Central Bank of Nigeria, CBN facilities where they were warehoused for the various Local Government Areas.
She explained that materials for distant LGAs were dispatched first all in a bid they get to the Super Rack Centres at various LGAs on record time.
Mrs Jim assured that by 7:30 am, voting materials would have arrived every polling unit.