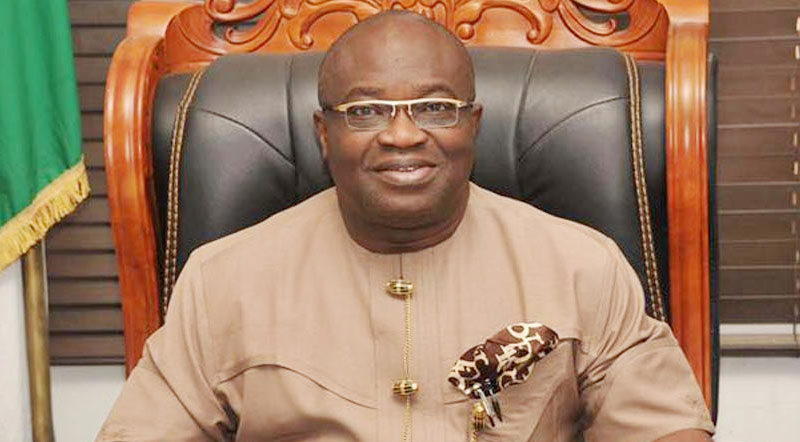 Governor Okezie Ikpeazu
...commends them for voting Peter Obi
…reveals he's not angry over failed senatorial bid
By Levinus Nwabughiogu-Abuja 
Abia State Governor, Dr Okezie Ikpeazu has appealed to the landlords in Aba to vote for the governorship candidate of the People's Democratic Party (PDP), Chief Okey Ahiwe in Saturday's elections.
He said that electing Ahiwe will permeate peace and security of the commercial city of Aba and Abia State at large.
Ikpeazu made the appeal when the landlords under the aegis of Aba Landlords Protection and Development Association (ALPADA) paid him a courtesy visit on Wednesday.
In a statement issued by his Special Adviser on Media, Enyinnaya Appolos and made available to Vanguard, Ikpeazu expressed gratitude to the group for acknowledging his administration's imprints since 2015, assuring that the PDP candidate will surpass his positive records when elected.
Noting that the State risked backwardness in economic and social developments if another party is elected into office, the Governor commended the people for voting the Labour Party presidential candidate, Peter Obi in the February 25 presidential polls.
Ikpeazu who said that Ndigbo made a big statement in the presidential election also revealed that he shared a similar political philosophy with Obi, reason he was not angry over his failed senatorial ambition.
He said: "I am happy that members of Aba Landlords acknowledged that Aba and Abia State have been peaceful and secure since I became governor in 2015. I am pleading for us to vote for Chief Ahiwe for the continuity of the peace, security and stability that Abia is enjoying under my watch.
"The things that I was unable to do, Chief Ahiwe will do. He is one of us. He started his life as a trader in Ariaria. He is an Aba man like me, and he won't abandon Aba and Abia State. The projects that my administration didn't finish, he will finish them and do more. I plead with Aba Landlords and their tenants to vote for Okey Ahiwe and the PDP on Saturday.
"I do not want our people to make any mistake that will take us backward. Any vote against PDP will take us backward. I commend our people for voting Peter Obi. With Peter Obi, we have made a statement as Ndigbo. I had understanding with Peter Obi, that's why I am not angry that I didn't go to the Senate."
Earlier in his speech, the president-general of ALPADA, Chief (Sir) A. E. Udeigbo commended Ikpeazu for the infrastructural development, peace and security in Aba.
He pledged the support of the landlords, assuring that they will vote for the PDP governorship candidate in the state.
"Governor, I want to thank you on behalf of Aba Landlords for the infrastructural development in Aba, including the flyover. I also want to commend you, sir, for the peace and security in Aba. Since 2015 till date, we have been living and doing business in Aba without any fear of security breach or any form of attack. I am from Anambra State, before now, I visit Anambra twice every month, but since 2020, I can't remember how many times I have visited Anambra State because of the insecurity in Anambra and Imo States.
"What happened during the presidential and National Assembly election will not happen again. We voted for Peter Obi and some others benefited from the decision to vote Peter Obi, but this Saturday, we will remember the things you have done in Aba, including the security that we have, and vote for PDP, particularly the incoming governor, Chief Ahiwe", Udeigbo said.
In his remarks, the PDP candidate, Ahiwe thanked the landlords for their resolve to vote for him on Saturday, promising that the peace and security of state will remain his watchword if elected.