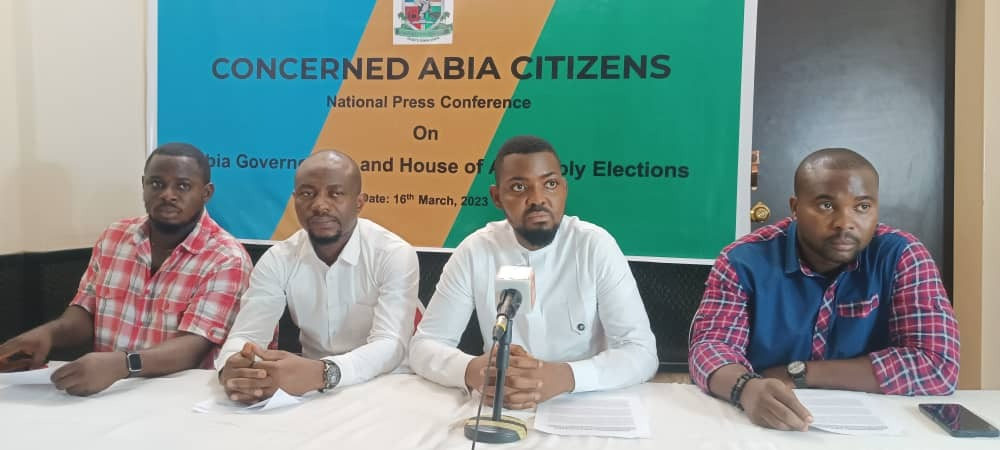 …raises alarm over plot to destabilize Abia state
…advises INEC chairman to caution staff against corruption
By Ezra Ukanwa
ABUJA—AHEAD of the 2023 gubernatorial election, indigenes of Abia State, on Thursday, expressed disappointment over alleged snail pace development of the state under the watch of the People's Democratic Party, PDP, stating that Abians will not vote for the party's gubernatorial candidate.
The Indigenes, under the aegis of Concerned Abia Citizens, CAC, also said that it has uncovered a secret plot by certain "disgruntled" elements to destabilize the peace and unity in Abia State during the coming governorship and state houses of assembly elections.
They said that following the defeat of PDP in the state during the just concluded Presidential and National Assembly elections, the party had resorted to unhealthy political campaigns against the opposition parties in the state.
The convener, Mr. Honest Offor, who stated this during a press conference, in Abuja, also bemoaned the unhealthy political campaigns and activities ongoing in the state.
He, therefore, called on all concerned security agencies to take the Abia state governorship election as top priority before, during and after the guber election, to ensure votes, lives and properties are adequately protected.
He said: "We have followed very closely the growing atmosphere of intolerance, bigotry and threats to life, which the state chapter of PDP has unleashed on opposition parties in the state since the February 25th election in which they lost.
"We are worried that if not checked, PDP's desperation and dastardly acts, are capable of truncating peace and derailing democracy in Abia state."
While calling on the Abia state people to come out en masse and vote during the gubernatorial election, Offor stated that any attempt to subvert or disenfranchise the people would be met with strong resistance.
He insisted that Abia state must be allowed to exercise their franchise in line with their conscience and preferences without let or hindrance.
Mr. Offor also called on the security agencies to take every necessary action to prevent PDP and their hirelings from carrying out their threats to subvert the will of Nde Abia.