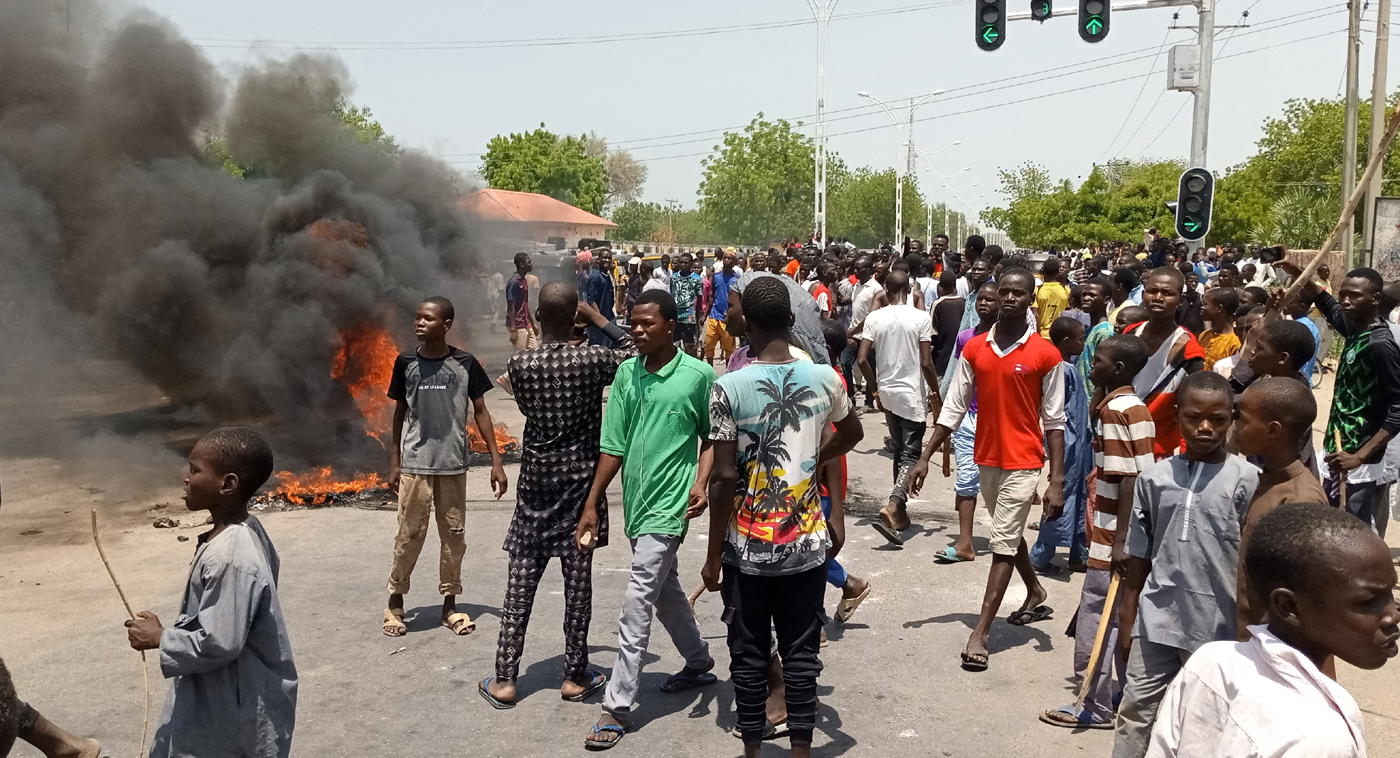 Protesters burn tyres as they block a main road in Maiduguri on June 30, 2019, during a demonstration calling for a ban on the anti-Boko Haram CJTF militia they accuse of abuses after the killing of a rickshaw driver. – The protesters blocked major roads in the Suleimanti area of the city and set fires, causing chaos despite pleas from police and military officers, an AFP reporter at the scene saw. (Photo AFP)
By Anayo Okoli
A group, Enugu State Network of Civil Society Organizations, ESNCSO, has condemned the attacks suffered by on election observers who worked in Enugu State to monitor last weekend's governorship and House of Assembly elections.
The group lamented that some of its members were harassed, intimidated and prevented from performing their duty.
In a statement by the Chairman if the group, Comrade Emmanuel Acha claimed that observers duly accredited by the Independent National Electoral Commission, INEC, and deployed by their respective organizations were attacked and molested by political thugs and security agencies. They called for investigation and arrest the perpetrators.
"It is no longer news that some accredited domestic election observers were attacked by thugs in Enugu during the gubernatorial and state house of assembly elections held on March 18, 2023, as reported in the newspapers.
"One of the incidents we cannot let go is what occurred at Obiagu Primary School last bus stop polling unit.
"Dr. Nwangwu Chukwunwike, one of our members who was working under the deployment of Nigeria's Civil Society Situation Room for the election, was attacked by a notorious thug (Aka Uche Monkey) while performing his legitimate duty of observing the electoral process.
"According to video evidence, he forcefully collected the observer's phone, hit his right eye, and ordered him to leave the polling unit.
"It could have been much worse if the military had not intervened immediately. The victim's right eye is still in excruciating pain. The medical report will determine the extent of the danger once we receive it.
"This barbaric act is unacceptable to us as civil society, and we will use all legal means to ensure that the perpetrator of this heinous and illegal act is held accountable.
"As members of civil society, we are committed to ensuring that the 2023 general election is held in a peaceful and credible environment; thus, we cannot condone any form of electoral violence or intimidation let alone meted on our member on official duty. The safety and security of observers among others is a priority to us and for sustainable peace and democracy.
"This violation of basic human rights has serious physical and mental health consequences. As a result, we urge all relevant authorities, particularly the police, the DSS, and the National Human Rights Commission, to investigate and prosecute the perpetrator of the crime", the group said.