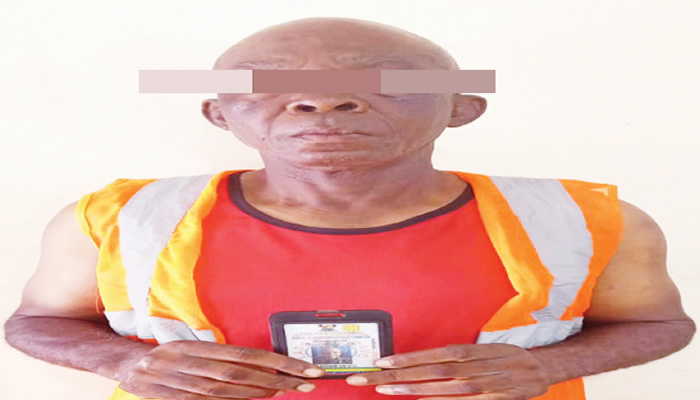 By Olasunkanmi Akoni
The Lagos State Special Offences (Mobile) Court, sitting in Lagos, on Tuesday, sentenced an arrested suspected fake Lagos State Traffic Management Agency, LASTMA, officer, Omotutu Bamidele to a two-year jail term for impersonating and extorting money from motorists across Lagos.
The convicted fake LASTMA Officer was arraigned by the agency at a Magistrate Court, at Bolade, Oshodi area of the state on Two-Count charges of "Did impersonate as a public officer by representing as staff of Lagos State Traffic Management Authority (S.78 of the Criminal Law of Lagos State 2015)" and "Did obtain by fraudulent trick (Sec. 323 of the Criminal Law, Lagos State)" before the court.
According to General Manager, LASTMA, Mr Bolaji Oreagba, through Director, Public Affairs and Enlightenment Department, LASTMA, Mr Adebayo Taofiq, Magistrate Kehinde Ogundare, sentenced Bamidele to a two-year jail term without any option of fine after he pleaded 'Guilty' to the Two-count charged levied against him.
Magistrate Ogundare stressed that the convict would serve the jail term without any option of fine due to the gravity of the offences committed.
The Court Prosecutor, Barrister. Olufemi Adekunle stated that both offences levied against the convict contravened the Criminal Law of Lagos State (2015).
In his reaction, Oreagba, described the judgement as a welcome development as it would serve as a deterrent to others who are still extorting money from innocent, unsuspecting members of the public under false pretence.
According to Oreagba "Our Monitoring and Surveillance Unit which has now been fully restructured would continue to hunt for other bad elements disturbing the peace of the society"
Earlier, Oreagba, confirmed further that the agency carried out special monitoring/Surveillance operations about the suspect and got him arrested in response to complaints from the motoring public (Obinna Kingsley and Adewusi Adebola) via LASTMA hotlines/social media handles.
According to him, "Investigation conducted revealed that the arrested suspect has been extorting huge sum of money from motorists for various traffic offences ranging from the seatbelt,  obstructions, illegal over-taking and One-way at different locations around the Lagos Island.
"It is disheartening getting complaints from road users, particularly motorists on activities of these unscrupulous elements  impersonating and extorting money from them."
LASTMA boss, therefore, urged the general public to be wary of those fake traffic officers stating that the agency operates a cashless policy as any violators apprehended are charged to court with a 'Referral Notice' issued to them.
"Let me warn the motoring public to desist from inducing traffic officers in any form (money) as both the giver and taker are liable before the law."
He, however, warned other impersonators disguised as LASTMA personnel to immediately desist from such illegal acts as more surveillance personnel have been strategically deployed to hunt for them.
Oreagba also urged motorists particularly, commercial bus operators to adhere strictly to the dictates of the Lagos State Transport Sector Reform Law 2018 and avoid attacking Officers of the Agency.
Recall that operatives of LASTMA had over the weekend, arrested Bamidele, 55, around the Ikoyi area of the state.
Bamidele, the suspect, who hailed from 'Atijere Town' in Ondo State, however, confessed that he and his colleagues still at large were making from erring motorists an average of N35,000 through extortion acts on daily basis.
The suspect, who was nabbed at Olu Holloway Road in the Alfred Rewane area of Ikoyi by men of the agency's  Monitoring/Surveillance team, led by Mr Ashafa Moyosore, Zonal Head, confessed to having been impersonating with a reflective jacket a LASTMA officer and extorting money from motorists particularly private car owners/ drivers at highbrow areas across the state.
Suspect confesses
Bamidele, who confirmed to be living with his junior brother inside one of the Army Barracks in Lagos, confessed further to have operated around Ikoyi, Obalende, Apongbon Bridge, Iporin, Olowu areas apprehending both commercial and private cars for various traffic infractions, including driving against traffic (One-Way).
According to him, "Any motorists particularly private car owners i caught dropping someone at any undesignated bus stop paid between N15,000 to N20,000, while those caught for driving against traffic (One-way) paid a minimum of N35,000."
A complainant, Mr. Adewusi Adebola, claimed that the suspect, apprehended him for 'obstruction' on March 6, 2023 around Spac Bus smStop by Awolowo Road, Ikoyi and collected N20,000 from him for dropping his colleagues.
While, Obinna Kingsley complained via one of the LASTMA social media handles (Twitter) that he was forced to transfer N50,000 to the arrested suspect for 'Obstruction' on Awolowo Road by Obalende Bridge towards Tafawa Balewa Square, T.B.S.
One of the victims of Bamidele, Mr. Adewusi Adebola owner of a Toyota Corolla (LSR 299 AY), when contacted simply said, "Honestly speaking i had written series of negative stories about activities of LASTMA on social media particularly on 'Twitter' since the ugly incidents happened
"Until i was called by LASTMA, management that the man i reported that extorted money from me was a fake traffic officer and that he has been arrested."
According to the Director, Legal Department, LASTMA, Barrister Akerele Kehinde, revealed that items recovered from the suspect include: Fake identity card and a reflective jacket as exhibits.