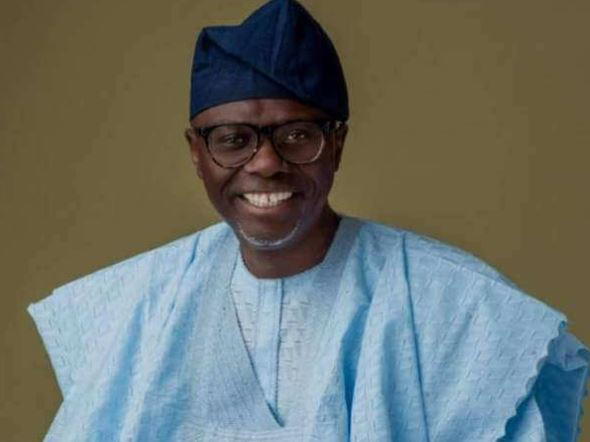 .Receives cert of return
.Obasa, 39 other lawmakers receive certs too
•REC hails outcome of polls despite flaws, sues for peace
By Olasunkanmi Akoni
Lagos State Governor, Babajide Sanwo-Olu, has assured residents of more rewarding years of service in the next four years when he received his Certificate of Return from the Independent National Electoral Commission, INEC, as winner of the March 18 gubernatorial poll in the state.
The Governor won his re-election in a landslide victory in the gubernatorial elections conducted penultimate week, polling 762,134 votes to defeat his rivals, Labour Party, Gbadebo Rhodes-Vivour and Peoples Democratic Party, PDP, Dr. Olajide Adediran, popularly called Jandor.
Sanwo-Olu and his deputy, Dr. Obafemi Hamzat, were joined by their wives, cabinet members and All Progressives Congress, APC, leaders to receive their Certificates of Return, yesterday, at the INEC office in Yaba amid heavy security personnel.
The electoral commission also presented certificates to all the 40 House of Assembly members-elect at the event.
Sanwo-Olu said his second term mandate was won on the strength of Lagos' diversity, proclaiming that his re-election reflected the wishes of all residents, irrespective of faith, creed or tongue.
The Governor declared it was time for the State to move forward and forge new frontiers for its progress. He extended hands of fellowship to contestants in the opposition parties to join APC in leveraging the State's diversity to bring about new prosperity for Lagos.
According to him, "Today, I stand before you older, wiser, more experienced, and more committed than ever to deliver on the contract that binds me to the good people of Lagos. We have made promises and we have also delivered on so many of them over the last four years, in line with our THEMES Agenda.
"Now, we must take the work to a new level of performance and delivery. We will complete all the ongoing projects and ensure that new ones are funded, prioritised and delivered.
"As we countdown to May 29, when this renewed mandate will commence, I assure Lagosians that together we are unlocking four more years of peace, progress, and prosperity for the State.
"It will be four more years of massive infrastructure renewal and development, four more years of forward-looking policies in transportation, health, education, environment, agriculture, security, wealth creation, entertainment and culture, and youth development. We are more determined to march into the future. Let us hold fast to all the lessons we have learnt and use them as valuable building blocks for what lies ahead."
Sanwo-Olu expressed gratitude to the electorate for giving him and his party an overwhelming victory and renewing the mandate to lead the State for the next four years. He promised never to take people's confidence in him for granted.
Speaker of the Lagos State House of Assembly Mudashiru Obasa, and other lawmakers-elect also received their Certificates of Return. They promised to ensure a Greater Lagos at the 10th Assembly.
Obasa, after receiving his certificate, said: "This presentation is a confirmation of our victory in the last poll. I am assuring Lagosians, on behalf of my colleagues, that we will continue to build on the success of the current Assembly when we resume for the 10th Assembly. We want to assure Lagosians that we will continue to make laws, pass motions and resolutions that will bring progress to Lagos and protect the interests of residents. That's the assurance that I have from the 39 other members-elect.
"We will also support the governor in his assignments to bring growth and progress to Lagos, as well as protect the lives and property of our people. However, supporting the executive arm does not mean we will compromise or abandon our constitutionally- guaranteed responsibilities.
"We also have a president-elect that we have so much confidence in, he was former governor of Lagos State and his track record is visible for everyone to see. This is a confirmation and our confidence that he will do very well, and all the challenges in Lagos will be a thing of the past."
Gbolahan Yishawu, who represents Eti-Osa II, promised to do more to lift his constituency.
"I made a lot of promises during the campaigns and I will do more for my constituents with this renewed mandate. I will do more to make things better for them.
"APC has done well in this election, and most especially our father and mentor, president-elect Asiwaju Bola Tinubu whose record of performance is visible to all. What he did in Lagos we know he can replicate as president of Nigeria."
Also, 38 lawmakers-elect from the APC and two from the opposition received their Certificates of Return.
Earlier, Resident Electoral Commissioner of INEC in Lagos, Mr. Segun Agbaje, said the 2023 general elections had good outcome despite challenges that characterised the process.
The commission, he said, remained undaunted and focused on doing all required within the ambit of the laws to avail all registered political parties that nominated candidates for the election equal opportunity to participate in the process.
He said: "The nation's electoral process that INEC under the leadership of Prof. Mahmood Yakubu, will never do anything that will alter the gains it has achieved in terms of credibility. The commission will continue to build on the credibility in line with the rule of law to ensure it does its best to meet the aspirations of the people.
"The preparation to the 2023 General Election commenced with the expansion of Voters access to polling units in 2021 which culminated in the increase of polling units in the State from 8,464 to 13, 325 polling units.
'This development necessitated huge personnel, vehicles and materials deployed for the election in the state. This was followed by the Continuous Voter Registration exercise of June, 2021/July 2022 that led to new voter population of 7,060,195 in Lagos State.
"The total number of Permanent Voter Cards (PVCs) collected in the State was 6,214,970 which was at its peak at 88 per-cent.
"It is important to point out that the successful outcome of the Lagos State Governorship and State House of Assembly Election would not have been possible without the support and cooperation of the electorate who came out to vote for the candidates of their choice.
"I urge all stakeholders to join hands with INEC as the commission continues to improve the electoral process by positively playing your roles. The political class must change its 'do or die' attitude to good conduct in politics."