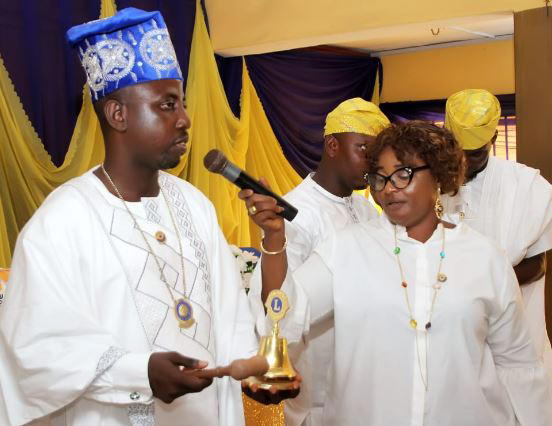 By Gabriel Olawale
Eko Centennial Lions Club has partnered with the Lagos State Blood Transfusion Service (LSTS) to create awareness on important of
voluntary blood donation.
The 5th president of the club, Lion Lukman Olabiyi announced the partnership after his official public presentation as the new president on Saturday.
The new president bemoaned the less awareness around voluntary blood donation in Lagos and Nigerian at large.
Olabiyi said the benefits of increasing the nation's blood bank by voluntary donors will do the country more good than harm.
Olabiyi stated that the club is all about humanitarian service and his tenure would deliver on the mandate of serving humanity particularly in the area of providing relief and succor to the less privileged.
He stressed that people must be informed of the benefits of donating blood and and the consequences of not showing interest.
He said: "At Lions Club, we are intensifying campaign on issue of voluntary Blood donation, people are not aware about this and the benefits of donating blood.
We are trying to change the misconception and trying to forge partnership with stakeholders, particularly the Lagos blood donor agency, because we know donating blood is useful and can safe lives when the need arises.
There are so many people in the hospital who might be in the need of the blood and if it is not available, we might end up losing lives."
He however called on well meaning individuals and organisations to support the club by contributing their quota for the betterment of the society.
The Aare Onakakanfo of Yoruba land, Iba Gani Adams, right activist, Kabiru Akingbolu and many others have also called on influential Nigerians to use their wealth to serve and uplift the less privileged in the society.
Iba Adams who was the father of
the day at the official public presentation of Olabiyi as the 5th president, stated the need for Nigerians to be humane in delivering service for the progress and development of the society.
Aare Adams, who was represented at the occasion by Ambassador Adebiyi Abiodun Philips, said service to humanity is service to oneself, insisting that the society would be better if every wealthy and influential Nigerian consider it pertinent to serve and uplift the less privileged people in the society.
The guest speaker, Mr Akingbolu emphasised on giving back to the society and ensuring the rich and privileged cater for the needy.
"If you cannot help those who could not feed a day, who lacks shelter, there is no how you can believe in God because believing in humanity is believing in God.
"When you have money and you're not helping people, you are like a stagnant water but when you spread it out, you are increasing the spate of wealth in the society and that is the best thing to do, " he said.