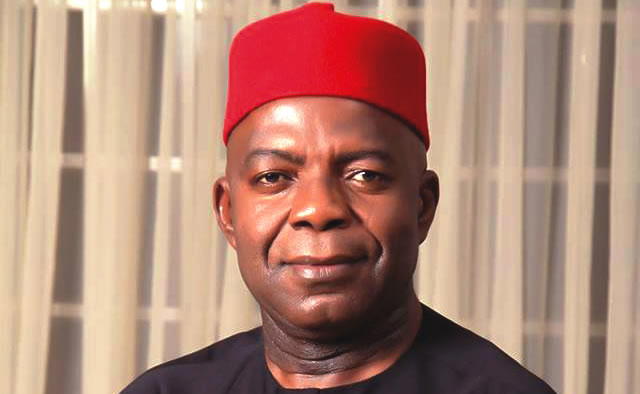 Otti
By Ugochukwu Alaribe
Former Secretary to Abia State Government ,SSG, Dr. Eme Okoro, has advised the State chapter Peoples Democratic Party , PDP, to forget going to court over the outcome of the governorship election where it lost to the candidate of the Labour Party, Dr. Alex Otti.
Okoro stated that the PDP ought to embark on what he described as a soul searching adventure to resolve all the issues affecting the party than embarking on litigation.
In a statement directed to the Vice chairman, Abia North zone/Acting Publicity Secretary of the PDP,Elder Abraham Amah, the ex SSG urged him to sheath his sword and reduce the rhetoric that characterized his contribution which led to what he described as disastrous outing of the PDP in the elections.
"As an Elder of the party, I am constrained to advise you to sheath your sword and rein in the rhetoric that has characterized your input into the current disastrous outing of our party.
" Is it possible that your double occupancy of juicy positions in Abia PDP is blinding you recognizing that this party has been torn apart by the posturing of people like you. In a couple of times, I personally confronted you about your unreasonable posture on issues germane to the survival and growth of PDP in Abia.
"Why are you again championing a useless foray to the Nigerian courts of unrealistic judgments? Are you a symbol of dictatorship in the midst of those you cannot direct, dictate or even lead? Does the state party chairman, Chief Asiforo Okere, really make inputs into these your public pronouncements? Is he just window dressing as our party leader?
"What real Elders like me would like to see and do is to take time to review the party's disastrous outing in all the ramifications of this past election, plot a route for resuscitation,if possible, apportion blame where possible and instil a rehabilitative approach to salvaging the mess and most importantly reduce tension,acrimony,witch hunt,vile propaganda which have cheapened the PDP.
"I have written this on the spur of the moment hoping that you will be courteous and magnanimous to realize that Abia resurgence is more critical than other interest."