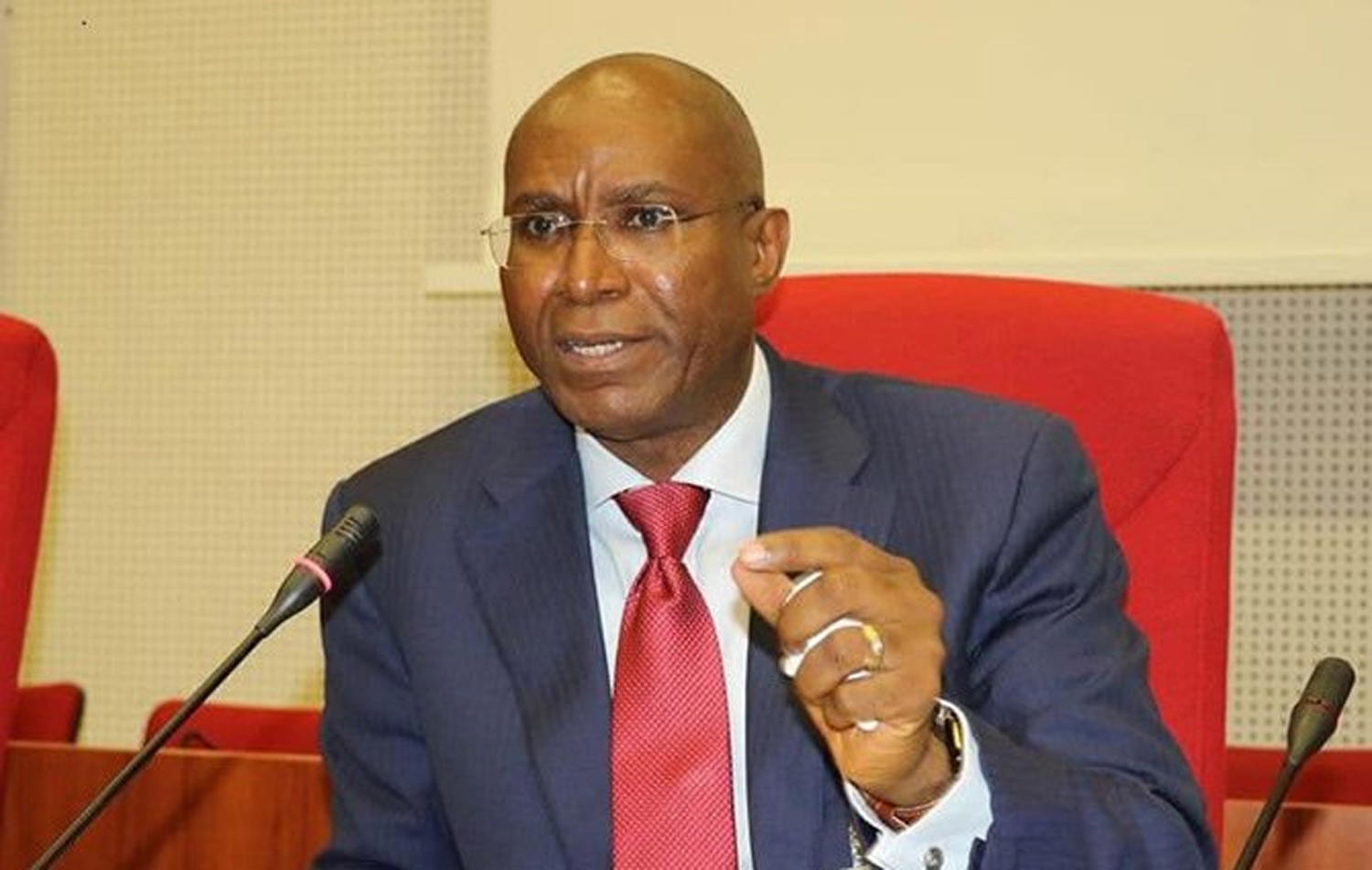 Deputy Senate President, Ovie Omo-Agege.
Ahead of the March 11 Governorship Election in Delta State, the state chapter of the Ohanaeze Ndigbo has endorsed the candidature of the Deputy President of the Senate and governorship candidate of the All Progressives Congress (APC), Senator Ovie Omo-Agege, as their preferred choice.
The Igbo body promised to mobilise her members in Delta and vote massively for Senator Omo-Agege to emerge as the next governor of the oil-rich state.
The leader of Ohanaeze Ndigbo, Delta North, Chief Frank Nwandu, announced the endorsement of the APC gubernatorial candidate during a stakeholder meeting with Omo-Agege in Asaba, the state capital.
Nwandu described Omo-Agege as the most competent and qualified candidate vying for the coveted governorship seat in the state.
He also said Omo-Agege's track records in the 8th and 9th Senate set apart from his rivals in the next Saturday's governorship election, adding that the APC candidate eminently qualifed to succeed Governor Okowa.
Earlier, Omo-Agege had told the Igbo community in the state that his administration would run an all inclusive government, adding that there will be no discrimination under him.
Omo-Agege, who urged the group to mobilise their members to vote APC, said the Okowa's administration had plagued the state into huge debts with nothing to show for the huge borrowing.
He explained that prior before Okowa's government, the school fees for tertiary institutions in the state was within N25,000 to N30,000 but under the PDP-led administration, tuition fees had risen above N300,000.
The Delta Central lawmaker noted that his administration will review the current tuition fees in all the state-owned higher institutions with a view to reducing the amount.
According to him, "In the past seven and a half years alone (I am sure you are all privy to this information as these are all issues within the public domain), the state has received, excluding internally generated revenue, about N4.2 trillion. And when you look round the state, I mean everywhere in the state, you cannot see anything that is remotely commensurate with that money that has come to the state.
"We have states in this country that have received less than Delta, but you can see the level of development in those states. For instance, Rivers State receives less from the Federation Accounts Allocation Committee (FAAC) and less from derivation. But Rivers has been like a construction site in the past eight years. More importantly, despite all of this, Rivers State or the governor does not owe one kobo to any contractor or to any bank. Even though we received so much, as much as N4.2 trillion, Delta now owes over N850 billion to banks and other creditors.
"Now, let me make this clear. There is nothing wrong with taking loans. Any civilized country or sub-national takes loans for development. If we are told today that out of N250 billion, about N10 billion is being set aside to address the perennial flooding challenge in Asaba, I don't believe that anybody will quarrel with that. Or will anybody quarrel with that? No! But every year as you all know, we have the flooding challenge in this place and government now makes money from what they call internally displaced persons' camps (IDPs). Once the rains start, some persons are already positioning themselves to make money for setting up IDP camps.
"Asaba is our state capital and if just N10 billion is set aside to address the flood challenge in Asaba, I don't think anybody will quarrel with that. And how do I know this? In Imo State, our neighbour, Governor Hope Uzodimma has taken concerted measures to address the flooding challenge in Owerri by deploying technology to tackle flooding in Owerri. And as it is right now, the bulk of the flooding challenge in Imo State's capital city is pretty much gone. What is wrong if our state government decides to earmark about N10 billion out of the N850 billion to address this flood challenge in our state capital? Is there anything wrong with that? If you look round now, moving from here to Warri, you either go through Agbor or through Asaba-Kwale-Oleh-Isoko-Ughelli to Warri. Whichever option you take, both routes are in a state of total disrepair. I agree that the roads may be federal roads, but if only about N11 billion each out of these loans is dedicated to the repair and completion of these roads, I don't believe anybody will quarrel with that. Will you quarrel with that?
"Our anger is this: These debts that have been accumulated in Delta State was misapplied and misappropriated. Nothing was applied for purposes and projects that would have been beneficial to all of us. And let me say this: you are Igbo from the other side of River Niger, but you live here in Delta. "However, today you are debtors in Delta because you live in this state. You are part of the N850 billion we owe because you live and work here. 
"I know that you never went to any bank to ask for loans, but Governor Ifeanyi Okowa has gone to the banks to ask for loans on your behalf. So now, he is leaving government, but you are a debtor and your children and grand children are debtors and we don't think that is proper.
"Now, as if that was not bad enough, he decided to bring a candidate, a candidate who never had the guts to interrogate and caution him against the excessive, reckless borrowing as his successor. As Speaker of the state House of Assembly which is a co-equal arm of government, no loan can be procured without the consent of the House of Assembly. If the Speaker had put his foot down and disagreed with the governor, the terrible situation we are in now could have been mitigated. The Speaker could have told Gov. Okowa that he cannot go on a borrowing spree. At least he could have persuaded the governor to tie the loans to specific developmental projects. 
"He did not exercise his power to moderate the mindless borrowing that has turned Delta into a high level debtor state. This is the same man Okowa is parading as governorship candidate and his successor. They are actually putting forward a manifesto that we should "EXPECT MORE". This means that we should expect more borrowing. 
"Our brothers and sisters have given the best part of their years as civil servants in the service of Delta State with monies deducted monthly from their salaries for their retirement. Unfortunately, on retirement, they have not been paid their pension and gratuities since 2011 while some of them are dying every day. "Some of them have cursed Okowa that he will never win the vice presidency and I think God has answered that prayer and their curses have actually caught up with him. That is why he has not succeeded in his quest to become the Vice President of the country. Those who are still alive and are close to death have not yet received their pension through no fault of theirs and yet we have a Speaker who could not caution Okowa to use some of the money to settle the pension of our retirees. 
"I am sure you all have children who are in tertiary institutions in the state either in any of the State universities or Polytechnic system. Before former Governor Emmanuel Uduaghan left government, tuition fees and levies was just about N25,000, but today, the same fees have increased to about N300,000. "Where will you get the money as parents and children to make all these payments? Yet, we are being told that they have a manifesto called MORE, EXPECT MORE, meaning that we should expect more borrowing, more increase in tuition fees, non-payment of pension and in short, expect more hardship.
"I am here today to offer myself as a viable alternative. We can do better than that as Deltans and we can do better as Delta State. I have my own track record. Everybody knows me. Everybody knows Ovie Omo-Agege as a man of dignity in this country. They know what I am capable of doing, but more importantly, when I give my word, my word is my bond. 
"But I cannot do it alone. I need your help to achieve better goals for Delta. I am in this because I want to change the narrative. We have to change the narrative. We can do better. In Delta State, you cannot win the governorship with the votes of only Urhobo, Isoko, Ijaw, Itsekiri or Anioma people. Everybody must come together to make it happen. I have a good chance of emerging the governor, but I need your help. I need your help as partners. I am telling you what I am bringing to the table and I expect to hear from you what you want an Omo-Agege government to do for you, first as Deltans and then more importantly as stakeholders of Igbo extraction.
"I know the challenges Anioma people face ranging from discrimination in employment and placements in the state's tertiary education system. I understand all of that, but I am here to tell you that there will be no discrimination in the government that I will run. Opportunities will be available to all Deltans. I will not say that because your parents or grandparents are from Anambra, you will not be entitled to opportunities, No! If the state civil service advertises for positions, I expect all of you to apply and the leadership of Ohanaeze Nd'Igbo to be on top of it and keep us on our toes such that the Urhobo, the Isoko, Itsekiri, Ijaw, and Anioma and all those who apply will be considered for employment on equal basis provided they are qualified. You have my commitment that to the extent that those who apply are qualified, they will be considered for employment in the state civil service. 
"The same applies in the admission process into our state tertiary institutions that will be based on equal opportunities. It does not matter where you come from, provided you reside in Delta and you pay your taxes in the state. But much more important is that I would want you to participate in government. For instance, when Bola Ahmed Tinubu was governor of Lagos State, we had people of Igbo extraction in his government. In fact, one of them, Ben Akabueze, is my very good friend. He was the Director of Budget Office under Tinubu in Lagos for many years.
"There are other Igbo people who served under former Governor Babatunde Raji Fashola and even in the Governor Babajide Sanwo-Olu's administration.
"This phenomenon is not in Lagos alone. In Kaduna State, my friend, Governor Nasir el-Rufai,  has Igbo, Urhobo, Isoko and person's from other ethnic groups serving in his cabinet. We are keen on who can add value to governance. When I become governor of this state, I will work with the best brains and people who will add value to the agenda we are presenting before our people. So, essentially, I will reach out. I will reach out to the Igbo people in Delta State, represented by the leadership of Ohanaeze Nd'Igbo, when we are about to form a government, God willing, to represent the interests of our brothers of Igbo extraction. These are some of the key issues I believe I have identified on my own. 
"I do not stand here to claim exclusive monopoly of ideas to the issues of governance, but I mean well for our state. Therefore, I want to hear from you. You don't have to necessarily present them to me today, but I would like you to put together what your expectations are for the government to be run by me. You can make your submission today or on a later date. But, today, I make a commitment to you that if the Igbo nation resident here in Delta stands by me, supports and delivers me as governor, in return, those issues we have agreed on, I will surely implement them.
"Finally, let me say this, we had the presidential and National Assembly elections in the country last week. Votes have been taken and results have been declared, some may like it and some may not. We have the judiciary as the next bus stop and those who feel aggrieved can approach the courts. That is the situation on ground. In light of that, I want to make an appeal and speaking as a Senator and as Deputy President of the Senate, I know the advantages that can accrue to a state where there is synergy between the state and the Federal Government. It is much more easier for me as a governor of the All Progressives Congress (APC) extraction to liaise more and get more from an APC president than I will get from another one.
"So today, as we speak, a President-elect has been declared and I don't want Delta State to be in the opposition. I want Delta State to be hooked up to the national political 'grid' for want of a better expression so that if there is anything we need as a government here, it will be easier to get it from the Federal Government. About two or three weeks ago, we were in Owerri for the presidential rally and the Imo State Governor, Hope Uzodimma, was saying that he asked President Muhammadu Buhari to convert many state projects into federal ones, which were approved expressly and there was applause everywhere. That can only be possible when there is synergy between the state and the Federal Government. I can get the Federal Government to do some of the projects that have been abandoned in Delta State like upgrading Warri Port and dredging of the Escravos Bay if there is synergy between the state and Federal Government. Imagine what a dredged Escravos Bay and rejuvenated Warri Port where vessels are now allowed to berth at the Koko Port and Burutu Port will do to the economy of Warri and the entire state and especially our brothers and sisters who are into trading. Unfortunately, that has not happened because there is no synergy between Okowa's Peoples Democratic Party (PDP) and the Federal government led by President Buhari of APC. I am sure I am communicating. 
"I seek your support as partners. I won't rule you. I want to be a chief servant. I am seeking sound leadership, but help me. I need your support to succeed in my quest to govern Delta State. The time is very short now, but I want a situation where after I have been declared governor on March 12 or March 13, God willing, with the support of the Igbo people, we will rejoice with the Igbo and the leadership of Ohanaeze Ndigbo."