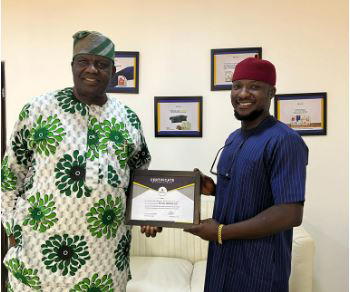 By Gabriel Olawale
Nigeria's fast-growing lubricants and engine oil company, CDN Oil and Lubricants Limited, has sealed a multimillion naira deal with a leading oil and gas services firm, KKT Oil Services, for the distribution of its quality engine oil products in the Federal Capital Territory, Abuja.
The Managing Director and Chief Executive Officer, CDN Oil and Lubricants Limited, Dr. Daniel Nwokolo, disclosed this while briefing journalists shortly after signing the deal with the Group Chairman of KKT Oil Services, Senator Ayo Akinyelure, at the CDN's Head Office, in Abuja.
Nwokolo said the partnership will facilitate the distribution of its unique engine oil solutions to more remote localities within the federal capital, thereby expanding the firm's customer base in line with its vision of becoming the best choice and leading marketer of engine oil and lubricant products in Nigeria.
According to the firm's Managing Director, "I am thrilled to announce that in line with CDN's ongoing massive expansion, we have entered a new partnership with leading oil and gas services firm, KKT Oil Services, for the distribution of our quality and affordable engine oil and lubricant products in the nation's capital, Abuja.
"With the new deal, KKT Oil Services has become the sole distributor of our premium quality engine solutions in Abuja and will drive our vision of penetrating new markets and taking over Nigeria's engine oil and lubricants market, focusing on the Federal Capital Territory, Abuja."
He further noted, "One of our company's comparative advantages is our competitive pricing strategy. Our oil engine products are cheaper than existing brands in the market, making them accessible and affordable to low-income users, including keke drivers, generator users, motorcyclists, and others. We believe that everyone deserves access to reliable and affordable engine solutions, and our products meet the needs of these income users.
"Through this partnership, we aim to increase the availability of our products in Abuja and the surrounding regions and provide dependable and cost-effective engine oil and lubricant products to individuals and businesses alike. We are committed to providing the highest quality of service to our customers and ensuring their satisfaction with our products."
Nwokolo added, "We are grateful to the KKT Oil Services team for making this partnership a reality. We are confident that with the company's rich distribution network across the country, especially in Abuja and CDN's topnotch sales and marketing expertise and strategy will emerge even stronger and more resilient, expanding our distribution channels until CDN brand becomes a household name for quality and reliable lubricant products.
"We believe that this partnership will not only benefit our company but also contribute positively to the growth and development of the region's economy."