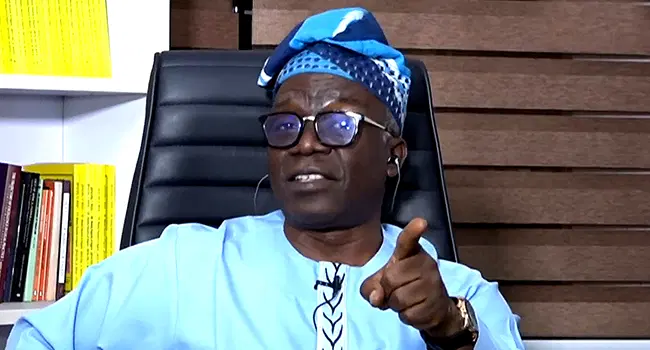 Alliance on Surviving Covid-19 and Beyond, ASCAB, Sunday said it would support Nigeria Labour Congress, NLC, over it planned action on Wednesday.
NLC through its president, Joe Ajaero had directed public sector workers in the country to embark on strike beginning from Wednesday.
He also directed that affiliate unions constituting the Nigeria Labour Congress should also be on standby for picketing exercises across all branches of the Central Bank of Nigeria, CBN, nationwide.
Reacting to the planned action, ASCAB in a statement by its National Chairman, Femi Falana SAN, promised to cooperate with NLC.
Below is the statement:
"I am pleased to be able to send solidarity greetings from ASCAB to the Nigerian Labour Congress (NLC). These are for the decision to call for action by your members over the lingering cash crisis. We hope that this action will be implemented, as planned, and as soon as possible, as we cannot overemphasise the trauma that the cash restriction policy of the Central Bank of Nigeria (CBN) is causing, especially to poor families.
"We understand that many of the members of your member bodies have faced severe daily difficulties in finding cash to travel to work over the last two months. So calling for members of the public sector trade unions of NLC to stay at home is nothing less than necessary and practical advice.
"For people working in the informal economy the cash restrictions have been nothing less than catastrophic. The whole POS business sector, for example, that employed approaching two million people, has now been put out of business. Markets and other areas of the informal sector have also been extremely affected by the lack of cash. Millions of poor people are now suffering a further significant cut in their merger incomes.
"This means that millions of people now go hungry on a daily basis, whilst 60% of the population were merely multi-dimensionally poor before the cash crisis started. Like the lock-down and the closure of the boarders in 2020, this is another devastation forced on the mass of poor people by the Government.
"Millions of members of the NLC member trade unions are now suffering a further reduction in their living standards that they can ill afford. Over the last four years, since the minimum wage should have been last increased, prices generally have a least doubled – or putting another way, workers can now only buy half of what they could in early 2019. This shows how important it is that the minimum wage is increased again, as soon as possible. In fact the International Labour Organisation (ILO) says that such minimum wages should be increased every year and this does in fact happen in most countries.
"In this situation, it is catastrophic for most working families that they have to struggle to find cash every day to travel to work, to buy food and to try and cope with the situation when any of their family falls ill. "It is vitally important that the NLC has now called action over this issue and we hope that the promised action is carried through as soon as possible.
"The immediate prospects for working people do not look good. The president elect has promised that he will end the fuel subsidy in June. The National Bureau of Statistics recently said that the price of petrol has increased by over 50% in the last year. The price of diesel, now at well over N800 per litre, gives some indication of the likely impact of the end of the fuel subsidy. We hope that the NLC will take appropriate action to address this threat.
"ASCAB provides its full solidarity for the action promised by the NLC which if anything is over due. We look forward to being able to assist with the pickets of the CBN offices in every state and providing any support that we can for the planned stay at home action from next Wednesday, 29th March."