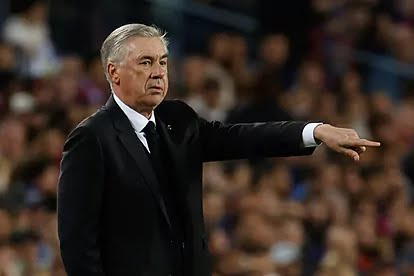 By Oluwaseyifunmi Awobiyi
President of the Brazilian Football Association, Ednaldo Rodrigues has confirmed that Real Madrid boss, Carlo Ancelotti is considered a top candidate to be the next coach of Brazil.
Ancelotti has been linked to the job since Tite left the role.
Although he denied the job rumors back in December saying: "I don't know, I was never approached by them and the Brazil Federation never called me. I just want to stay at Real Madrid".
He and Madrid further denied that there had been no contact between them and the Selecaos sometime in February.
The CBF President confirmed the interest in him, mainly for the respect of the Brazilian players for the Italian gaffer.
"Ancelotti is unanimously respected among players. Not only Ronaldo Nazario or Vinicius Jr but all those that have played for him," Ednaldo said to the news outlet Reuters.
"I really admire him for his honesty in the way he works and how constant his work is. He needs no introductions.
"He is really a top coach who has several achievements and we hope he can have even more."
"Ancelotti is not only the players' favorite but it seems the fans' too. Everywhere I go in Brazil, in every stadium, he is the first name the supporters ask me about.
"They talk about him in a very affectionate way, in recognition of the exemplary work he has done in his career.
"Let's have faith in God, wait for the appropriate time and we'll see if we can make it happen as we look for the new coach of the Brazilian national team."
The Madrid gaffer's contract is active until 2024 but is undergoing serious pressure as his side are 12 points under La Liga rivals Barcelona.
Ednaldo opposed rumors of the CBF already in talks with him, holding out till the Los Blancos allow them to discuss a negotiation.
"We will be very ethical in our approach and respect the contracts that are in place," he added.
"We also greatly respect the work that is done by any coach and his club to get there and make any kind of approach, it would be a lack of respect for the president of the clubs in question. ]
"Therefore, we have the patience to wait for the right moment so that we can hold these conversations.
"Nothing is really defined yet to say the name [of the next coach] for sure, but it's within this line, you understand? We need a coach who has the players' respect and admiration," he concluded.
Real Madrid may be out of the La Liga title race but there are still in the contest for the Copa del Rey and The Champions League