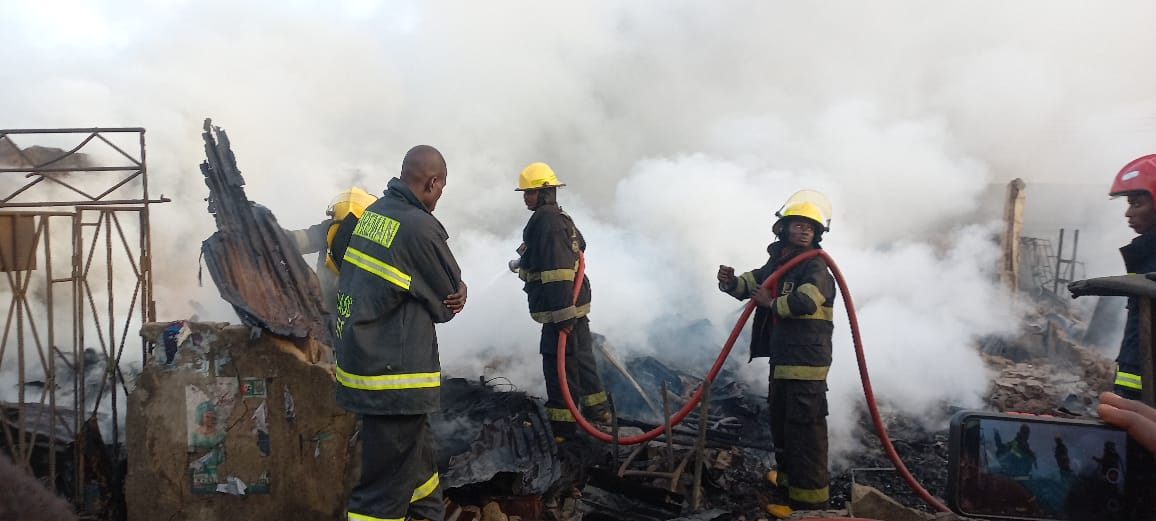 THE tragedy of the fire that gutted the Akere Market, Tolu, in Ajegunle, Lagos on Wednesday, March 8, 2023, goes beyond mere loss of lives and the economic livelihood of the traders in the market.
An official statement by the Director of the Lagos State Fire and Rescue Service, LSFRS, Margret Adeseye, said her outfit responded to a distress call at about at 3.28am on the fateful day, but by the time they put off the inferno, the motor spare parts section of the market had been razed. They, however, succeeded in preventing the fire from spreading to a nearby filling station and neighbourhood.
One yet-to-be-identified person was reported dead, while about 200 shops were burnt to cinders. The Police suspects an arson attack. By Friday last week, one person was already in the police net and incriminating evidences found on him. Many believe that the suspected arson might have been politically-motivated.
Within a few hours, a life was lost, and the economic livelihoods of innocent citizens were ruined. People became destitute almost in the twinkle of an eye.
Something of this nature was widely expected. The danger is: more or worse could happen in the next few weeks unless the law enforcement agencies, conscientious leaders and good Nigerians rise against it.
It is unfortunate that certain politicians allowed what transpired in the Presidential and National Assembly elections which took place on February 25, 2023, to upset their sense of reasoning and they resorted to dangerous ethnic sabre-rattling, especially on the social media.
Traders and people of a certain ethnic stock resident in Lagos have been openly threatened. Even before and during the already conducted elections, this threat was freely peddled and people attacked. Many of the perpetrators never bothered to conceal their identities. Yet nothing happened to show that such lawbreaking antics would not be tolerated.
Eye witnesses said the hooded arsonists were armed to the teeth and shot intermittently while setting the stage for the arson. If not for the Fire Service, an evil that was reserved for the spare parts section operated by people from a particular ethnic stock would have consumed the whole neighbourhood. Reports say a similar attempt which was made penultimate Thursday was thwarted by a local security outfit.
The ethnic nature of the tension in Lagos is a danger for the country. This may be a dress rehearsal. Law enforcement agencies must stand and be counted. This is a call to duty. All good Nigerians must stand against this gunpoint "democracy" that is unfolding in Lagos.
Citizens, irrespective of their backgrounds, must be allowed their constitutional right to vote and be voted for without molestation.
If what is brewing is allowed to explode, it may get out of hand. This must be avoided!