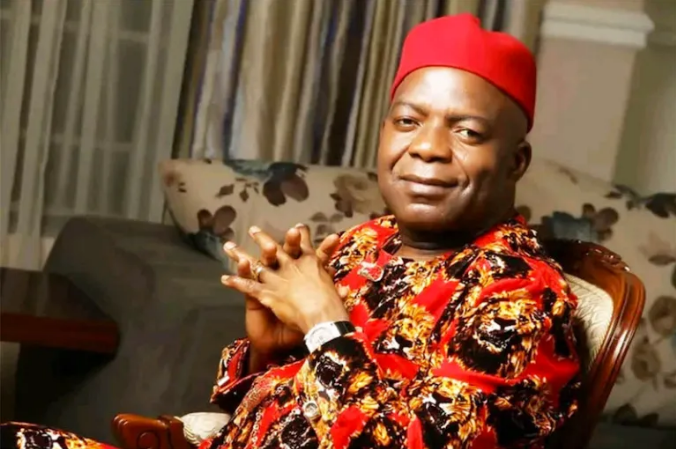 Jubilation erupted spontaneously in the major towns of Umuahia and Aba on Wednesday after INEC declared Dr Alex Otti of the Labour Party the winner of March 18 governorship election.
The News Agency of Nigeria (NAN) reports that the jubilant residents of the two cities danced round the major streets and made bornfire on the roads.
Fireworks of various kinds also rented the air as part of the celebration.
Tricycle operators trooped to the streets driving hysterically in celebration of the LP's victory.
NAN also reports that drinks were freely offered to people on the streets, in shops and relaxation spots in the cities.
It was also learnt that Arochukwu and Ohafia, the home towns of the governor-elect and his Deputy, Mr Ikechukwu Eletu, respectively, were also in celebration mood.
The people chanted different songs, thanking God over the end of PDP's 24 years of "misrule".
A cross-section of the people said that they were celebrating the fall of PDP in Abia and emergence of a new dawn.
The state Chairman of the Civil Liberties Organisation, Dr Charles Chinekezi, said that he was happy that the votes of Abia people could count in the election.
He said that Otti's government would change the narrative and put an end to the era of non-payment of workers salaries, multiple taxation and unfulfilled promises.
"With Otti's record of achievement, Abia people are sure to have a new lease of life," he said.
A businessman in Aba, Mr Michael Mba, said that he is very happy because Abia would witness sustainable development with Otti on the saddle.
Also, Mrs Nneka Onyegbula, said that Otti's government would surpass the performance of the outgoing administration of Okezie Ikpeazu.
She said that she was happy because Abia would experience greater transformation under Otti.
She therefore urged the citizenry "to join hands with the new government to deliver the expected result".
Mrs Sandra Okechi said that her joy was informed by her belief that Otti's administration would enthrone an all-round development in infrastructure, social amenities, health, education and regular payment of salaries to the civil servants.
She said that she was eager to see how a new party in power in Abia would impact the lives of the people.
"This is why I am excited about Otti and Labour Party's victory," Okechi said.
Mrs Nkiruka Godwin, who was seen dancing in the market alongside other women when the news of Otti's victory broke out, said she was hopeful that new government would alleviate "the pain inflicted on us in the last eight years".
Godwin also said that she believed that Otti would run a people-oriented government that would end the exploitation of traders in Aba. (NAN)