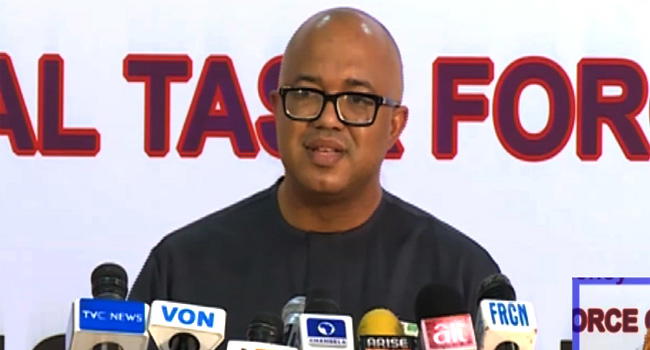 Dr Chikwe Ihekweazu, NCDC DG.
By Joseph Erunke, Abuja
NO few than 52 persons cutting across 21 states of Nigeria have died of Cerebrospinal Meningitis, CSM, the Nigeria Centre for Disease Control, NCDC, has said.
Cerebrospinal Meningitis is an acute inflammation of the meninges of the brain and spinal cord, caused by a specific organism, accompanied by fever and occasionally red spots on the skin.
The Nigerian disease prevention and control centre, in its situation report, released on Monday, disclosed that the number was between 2022 and 5th March 2023.
It said a total of 628 suspected cases, including 52 deaths (CFR 8.3%) were reported from 21 states in the 2022/2023 CSM seasons.
The report named Abia, Bauchi, Bayelsa, Benue, Borno, Ebonyi, Gombe, Imo, Jigawa, Kano, Katsina, Kebbi, Kogi, Nasarawa, Niger, Oyo, Plateau, Sokoto, Taraba, Yobe and Zamfara as some of the states that reported the suspected CSM cases in 2022/2023.
The report explained that 91% of all cumulative cases were from four states of Jigawa (509 cases), Bauchi (23 cases), Zamfara (22 cases) and Oyo (14 cases).
The report gave 62% of males of the cases while 38% were females.
The report explained, "Ten LGAs across five states, Jigawa (7), Bauchi (1), Oyo (1), Plateau (1) and Zamfara (1), reported more than 5 cases each this CSM seasons 2022/2023."
According to NCDC, the number of new suspected cases in epidemiological week nine decreased by 84% compared with epidemiological week nine.
The centre said continued monitoring of Cerebrospinal Meningitis response across states would be done by the national multi-sectoral Cerebrospinal Meningitis Technical Working Group.