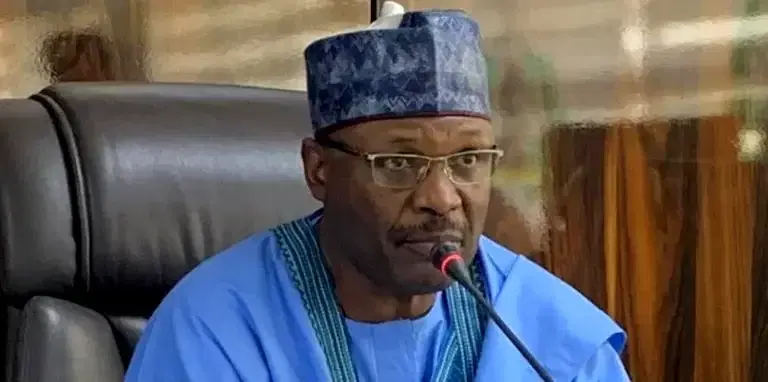 By Joseph Erunke, ABUJA
An election reform campaign group operating under the aegis of Partner for Electoral Reform has applauded the Independent National Electoral Commission, INEC, for its handling of the 2023 election conduct, saying the nation's electoral umpire fared well in its performance.
It, however, noted that there were glitches at the point of collation of results, assuring that the cause of the problem would be identified and treated to avert recurrence in subsequent polls in the country.
To this end,it tasked Nigerians to have faith in the ability of the nation's electoral body to conduct free, fair and credible polls in line with international standards, charging them to begin to change the negative narratives against the commission following their grievances over the outcomes.
Convener of Partner for Electoral Reform, Ezenwa Nwagwu, addressing the media, Thursday,in Abuja, insisted that citizens must not allow political actors to influence them into engaging in their unnecessary negative propaganda against the 2023 general elections.
He decried the political commentaries that have since trailed the election, saying they were built on propaganda following their ignorance of the election processes.
The aim of the propagandists, he said, was to criminalize INEC, and make it look weak.
Tasking them not only to save the nation's institutions but also protect them, he said:"I'm just saying that the country needs to be nuanced in the way it engages in elections. And it must engage elections from an informed point of view. So that partisan interests do not overshadow the commentary."
Mr Nwangwu admitted that there was violence, and suppression of votes during the election, but said it would be unfair to use violence in a few polling units to judge the entire process that happened in 176, 000 polling units.
He said, "it is important that Nigerians who are knowledgeable about the electoral process put this narrative out and make the world know that 2023 was not Armageddon. It was not a disaster . INEC performed creditably up to the point where that challenge came. Where that challenge came from, time will expose it.
Nwangwa said the BVAS machine was still a game changer in the election and most politicians especially those who could not rig who are not pleased with the reforms introduced by INEC
He recalled that there was a time in the country's history when election results were written in hotel rooms.
"In most cases you could even be voting and the result of where you're voting will be announced. In most cases the results were written in hotel rooms," he said
He said further, "So the thrust of my conversation is that we cannot completely continue the narrative of saying everything was bad. We must also put out those things that worked significantly well in 2023. And one of the things we must protect going forward is the BVAS. The BVAS has helped us to ensure that Rivers cannot bring 3 million votes that used to happen. In times past, Rivers, Lagos and Kano were the last results that used to come in every election in Nigeria. They wait until all other results are announced. But in 2023, Lagos results were among the first and it produced a very significant low number of votes. So what used to happen, when people talk about voter apathy is that, I told you that we came from a place where we write results in hotel rooms and tell people to go to court. But politicians in 2023 were afraid of the BVAS, they didn't know what to do with it. And that accounted for the low numbers that you have seen."
Explaining the controversy surrounding the transmission of results in real time on the iRev portal, he said that, "Significantly is results transmission, because I need to put this out there, result transmission process is manual. It is not electronic. The INEC results transmission process is manual. Manual because once the results are collated and announced, it is entered manually into a form EC8a, and handed over to party agents and security.
"And if the media is interested, they can also get a copy before it is captured and uploaded into IReV. Now, the process of result transmission had worked effectively, the place that INEC incinerated itself was at the point of real time transmission but the real-time transmission is an audit. The result transmission process has already been concluded in the polling unit. So this IReV that has become the issue is an auditor. If the result that has been produced from the polling unit and taken to the collation centre is not matching with what was brought, the returning officer can refer to IReV; if there's a dispute. If there is no dispute, then it is not important to go to the IReV."
He also said the appointment of those described as having partisan interest into the commission as Resident Electoral Commissioners, may be responsible for some of the challenges experienced by the commission during the election.
"We should also refer to what the media and civil society said when 19 new INEC officials were appointed. We came out to say many of these people who are appointed newly lack experience, they have partisan backgrounds.
" Check where you have a crisis in terms of opening of polls and see whether they are not located in the states that we highlighted, that there will be challenges.
"Many of them subverted INEC. We told people that somebody in Sokoto contested an election in 2015, under the banner of a political party, and you appointed that person to INEC.
"We told Nigerians that somebody's elder brother is a member of the National Working Committee of a political party you appointed that person, no conflict of issue.
"When we took it to the National Assembly, the politicians who are crying today were absent from that conversation. They didn't hear that conversation," he further said