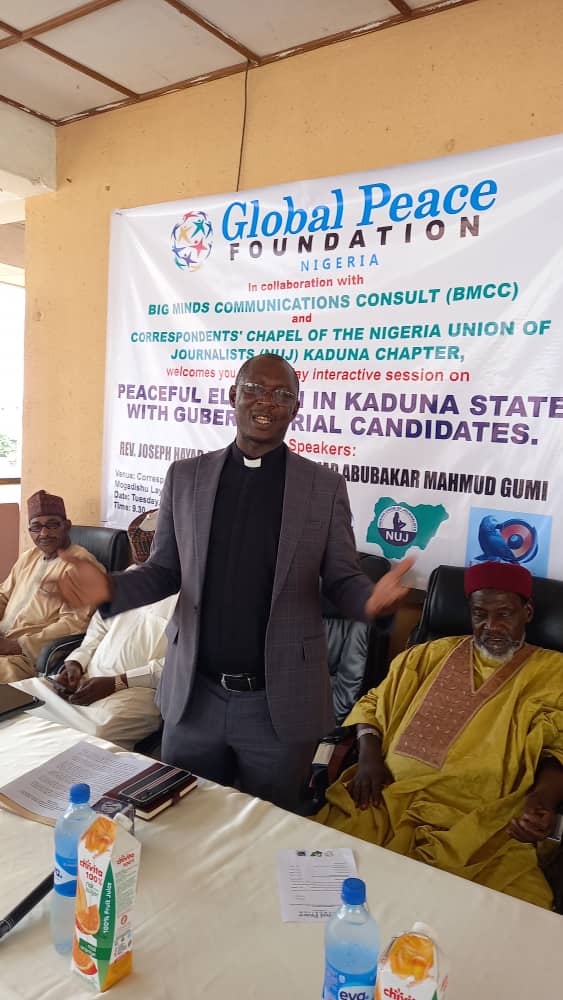 By Ibrahim Hassan, Kaduna 
Country Director of the Global Peace Foundation Nigeria, Rev Joseph John Hayab has charged journalists and other stakeholders in the corporate existence of Nigeria to uphold the ethics of peaceful coexistence and ensure that the 2023 elections in Nigeria never degenerate into conflict.
Rev Hayab who's also the Chairman of the Christian Association of Nigeria ( CAN) in Kaduna State, admonished the journalists to abide by the ethics of their profession and called on the politicians to eschew acts contrary to the rule of law so as to have peaceful conduct of elections in Nigeria. 
Hayab's  Global Peace Foundation Nigera supported a One Day Interactive session with journalists and gubernatorial candidates in Kaduna State on.Peaceful  Elections, in collaboration with the Correspondents' Chapel of the Nigeria Union of Journalists (NUJ ) Kaduna state chapter and a private firm ,the Big Minds Communicatiins Consult(BMCC) on Tuesday in Kaduna .
The event was attended by journalists, politicians from across the political parties,Christian and Muslim clergies and other citizens from all walks of life. 
Keynote address was delivered by Rev Joseph John Hayab, Country Director, Global Peace Foundation Nigeria , Secretary of the Jama'atu Nasril Islam (JNI) Sheikh Ibrahim Kufena who stood in for renowned Islamic Scholar,Sheikh Ahmad Gumi,while a Communication expert and former Correspondent of Radio France International,RFI, Ahmed Maiyaki was guest speaker on the topic " Revised Media Code on Election Coverage ."
At the  One-Day Interactive Session on Peaceful Elections in Kaduna State, Rev Hayab said "today, we are here to network on how we can make positive use of religion to motivate the populace to participate in politics as well as to conscientize the electorates on how to hold political officeholders responsible and not exploit religion to divide the people or heat the polity.
"At Global Peace Foundation Nigeria (GPFN), we hold the strong belief that human beings are members of One Family under God as such politics must not be allowed to become a divisive tool which creates enmity but a cord that binds this one humanity as a valued family.
In the wake of the 2023 general elections, Nigerians, especially the young voters, have demonstrated a longing for morally upright and inventive leaders that will support building the society, raise godly and responsible youths to take over from them, and give women a sense of belonging at all levels."
"However, to conduct credible, free and fair elections that would usher in the kind of leaders that the Nigerian public desires, the role of the media is substantial and that leads me to appeal to journalists at this crucial moment, especially in Kaduna state, a state that has experienced devastation in the aftermath of elections in the past, to report in a manner that douses any rising tension than to add to the flames of an already a volatile situation with sensational reporting."
"On the other hand, religious leaders are human beings who have the right as citizens to contribute to nation-building but should be through advocacy for free, fair, and credible elections, supporting the active participation of all who listen to them to be civic and responsible."
"Besides, religious leaders must take the duty of being torch bearers to call out those who hold public office to do right and condemn all forms of evil anywhere and at any time. However, when religious leaders turn a blind eye and become instigators instead of mediators, then the media as the fourth estate of the realm of government must rise to the challenge to increase the awareness in society of any distortion and excessive powers that religious leaders may wrongfully give themselves. "
"As it stands, Saturday 11th March 2023 is the day slated for the next election and the governorship vote is considered closer to the people and may attract more attention than the presidential held on 25th February 2023. 
Given the sensitivity of Kaduna state and the resulting experiences of religious tensions in the past, GPFN is calling on Kaduna state people to make use of this election to unite and respect each other's rights and freedom of choice. And whoever emerges as the winner through a transparent electoral process should treat citizens with love and respect, and make a frantic effort at uniting the people because without peace the public will not be effective, and productive."
"In all, a united and peaceful Kaduna state is what all peace-loving citizens crave and GPFN joins the voices of lovers of peace across the world to appeal to the citizenry to treat everyone as a member of One Family under God, irrespective of their origin, faith or status. 
We must all work together irrespective of our religious or other social identities to achieve and sustain peace in Kaduna state. Thank you for listening!
Long live, GPFN
Long live, the media 
Long live, Kaduna State 
Long live, the Federal Republic of Nigeria
Long live, humanity ."
Chairman of the NUJ Kaduna State Council, Hajiya Asmau Yawo  Halilu and Chairman of the Correspondents' Chapel, Alhaji AbdulGafar Alabelewe thanked  the Global Peace Foundation Nigeria for the partnership and assured the Nigerian public that journalists would deploy their training on ethical and balanced reportage during the forthcoming election so as to promote peace and harmony in Kaduna State and Nigeria in general.