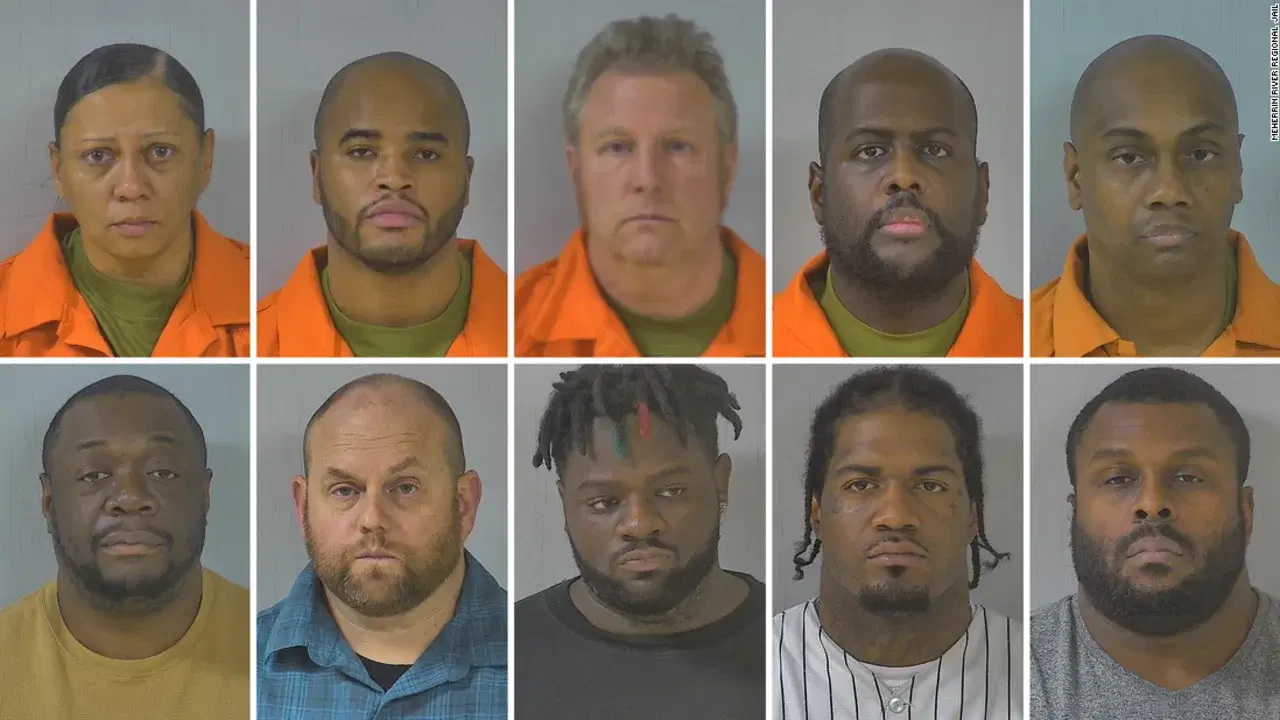 By Biodun Busari
Seven police officers and three hospital workers in the United States have been charged with second-degree murder for the killing of a Black inmate at a psychiatric hospital in Virginia as revealed by the case prosecutor on Thursday.
According to CNN, the victim, 28-year-old Irvo Otieno died on March 6 while at Central State Hospital in Petersburg, three hours south of the US capital Washington, after being transferred from a local prison due to his mental condition.
The preliminary autopsy results revealed he died of asphyxiation while being "physically restrained," Dinwiddie County District Attorney Ann Cabell Baskervill said in a statement, amid video footage of Otieno's death shown Thursday to his family.
Though Otieno "was going through mental illness, what I saw today was heart-breaking," his mother Caroline Ouko told a press conference.
Ouko said the video showed "seven officers on one man," and that it "goes on and on."
"My son was treated like a dog, worse than a dog. I saw it with my own eyes…they smothered my baby," she said.
The family have retained Ben Crump, a high-profile lawyer known for representing the families of victims in incidents of violence carried out by police against African Americans.
Crump told media that Otieno was handcuffed and had his ankles shackled, and the seven police officers pinned him down for 12 minutes.
Ranging in age from 30 to 57, the seven Henrico County sheriff's employees were taken into custody and charged with second-degree murder on Tuesday.
Three hospital employees, ages 23 to 34, were arrested and arraigned on the same charge Thursday.
The seven deputies who were charged were identified in Baskervill's statement Tuesday as Randy Joseph Boyer, 57, of Henrico; Dwayne Alan Bramble, 37, of Sandston; Jermaine Lavar Branch, 45, of Henrico; Bradley Thomas Disse, 43, of Henrico; Tabitha Renee Levere, 50, of Henrico; Brandon Edwards Rodgers, 48, of Henrico; and Kaiyell Dajour Sanders, 30, of North Chesterfield.
The hospital workers arrested Thursday were identified as Darian M. Blackwell, 23, of Petersburg; Wavie L. Jones, 34, of Chesterfield; and Sadarius D. Williams, 27, of North Dinwiddie.
The United States is undergoing a reckoning on police brutality and racism sparked by the 2020 killing of George Floyd, a Black man who died at the hands of a white police officer in Minneapolis.