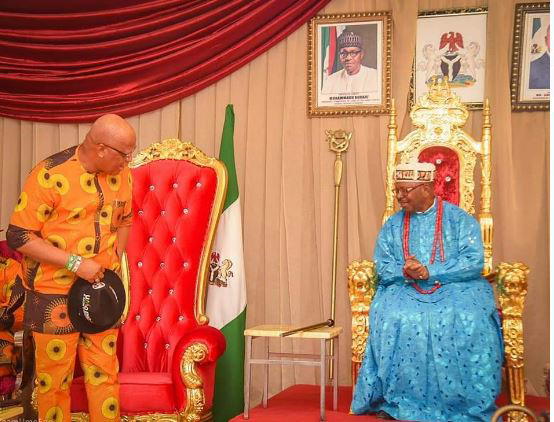 The paramount ruler of the oil-rich Eket Local Government Area, a renowned technocrat and industrialist, HRM Edidem ECD Abia has said that it would be a thing of pride and fulfilment to have Pastor Umo Eno as the next governor of Akwa Ibom State. The respected monarch spoke yesterday in his beautiful palace, when the PDP/Umo Eno Governorship Campaign team paid him a courtesy call, on its way to Eket Stadium for the Eket LGA stanza of the governorship campaign.
According to the paramount ruler, the governorship project and aspiration of Pastor Eno is the project and aspiration of Eket people, because Pastor Eno, though from Uyo Senatorial District by birth, is more or less a son of Eket, having lived and ran a flourishing business empire in Eket for the past 25 years. "I am therefore certain that Eket people will vote overwhelmingly for you because they know you directly as a hardworking man, a man of capacity, a man of competence with a very good character", he said.
While commending Governor Udom Emmanuel for the many projects he has executed in Eket, he expressed confidence that Pastor Eno will raise the bar of development in Eket when he becomes the governor in a few months time. "Governor Udom Emmanuel has done tremendously well, and we have no doubt that Pastor Umo Eno will do even more and we are going to support Pastor Umo Eno 100 percent", the monarch said.
In his remarks, Pastor Eno, who was accompanied by his wife, Patience, and the leadership structure of PDP/Umo Eno Campaign Organisation, said Eket people are a very hospitable and supportive people, who must share in his successes in business and now politics. He thanked the monarch and Eket people for the confidence they have in him and pledged to make Eket the diamond on the crown of Akwa Ibom State. "Eket has been my home for 25 uninterrupted years and whatever I am today by the grace of God is a product and testimony of the hospitality and support that I have received from Eket people…I know Eket people and I understand the needs of Eket exactly as any Eket man does… I will champion the development of Eket…as already captured in my economic blueprint, the ARISE Agenda".