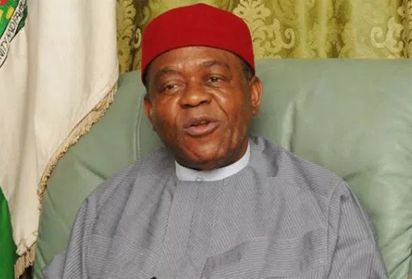 Theodore Orji
By Uzoma Isiakpu
CREATIVE writers and musicians are great thinkers and philosophers. Through their work they philosophise and mirror the society and what happens in their environment. Little wonder Anthony Howard Wilson, a British record label owner, radio/television presenter, night club manager, journalist and author in one of the tracks of his smash hits – "I like your style" – depicted the politician as a man of many words.
True to type, politicians, particularly in our clime, are quite verbose. What the politician says in the morning, he will disown in the afternoon. And in the evening, if you hold him for his utterance in the afternoon, he will either tell you that he was misquoted or brand you a detractor. That's a typical politician for you.
However, in Nigeria, nay, Abia State, a political stalwart, elder statesman, philanthropist per excellence, and a mentor and benefactor to many is an exception to this ugly norm. That man of honour and integrity is a former two- time Governor of Abia State (2007– 2015) and Senator representing Abia Central Senatorial District at the senate, Chief T. A. Orji (Ochendo Global). While on vote hunt in 2019 for re-election into the Senate, Senator Orji, a man of few words, sounded it loud and clear that after his second term in the red chamber, he would not seek re-election.
Papa Ukwu, as he is fondly called by the younger generation many of who have constituted themselves as Ochendo Boys, stated that he took the decision to quit politics to grow democracy and give space to youths. Many did not take the father of equity serious and waved his words off as one of those rhetoric of politicians. Those looking forward for his reneging his promise were disappointed as the self- respecting, distinguished senator of the Federal Republic was not in the picture during primary elections preceding the 2023 general elections.
If integrity, according to M. K.Soni Action, is "doing what one speaks, speaking what one does", then Chief T. A. Orji, a ranking senator in the eighth and nineth Senate is a perfect example of a man of integrity. He is a man of integrity because he has done exactly what he said he will do without excuses.
A great and dynamic leader of vision with passion for service delivery, Chief T. A. Orji has paid his dues in the civil and public services. Seasoned, tried and tested, technocrat and political juggernaut, he has meritoriously served his community Abia State and Nigeria at large.
As governor, he will be remembered for many indelible milestones, particularly in his second tenure. History will ever be kind to Chief T. A. Orji for routing out Osisikankwu and his band of criminals who unleashed terror in the state during the dark days of kidnapping. Senator Orji will be remembered for the construction of the World Class International Conference Centre (now named after him); building the Abia Specialist/Diagnostic Centre; the New Secretariat Complex; numerous road projects across the state; and mass promotion of civil servants.
History will equally be kind to him for prompt payment of salaries and leave allowances; as well as handing over 19 mission schools to their original owners. Perhaps the greatest of his legacies was making it possible for an Ukwa/Ngwa man, Dr. Okezie Ikpeazu, to succeed him as the governor. At the Senate where he was elected into in 2015, the cerebral, pragmatic and hardworking senator made profound impact by offering quality and effective representation to his Abia Central Constituency, Abia State and the country at large. The proof of Chief T. A. Orji's legislative excellence who has served as chairman, Senate Committee on Privatisation, vice chairman, Senate Committee on Agriculture and member Senate Committee on Health, among others, are legion.
He sponsored over 16 bills, including SB 256, an Act to provide for the Establishment of Nigeria Centre for Disease Control and Prevention which was passed by the Senate on March 29, 2018 and assented to by President Muhammadu Buhari in November 2018. The education-friendly senator has till date, awarded scholarships to more than 440 undergraduates from Abia Central Senatorial District, even as no fewer than 700 persons from Abia Central and beyond have been treated free for various eyes disease by the Chief T. A. Orji Free Eye Surgery Initiative.
One hundred and eighty persons from Abia Central have also been trained in various skills and vocations at the National Root Crops Research Institute Umudike, Federal College of Agriculture Isiagu, Ebonyi State and National Centre for Mechanised Agriculture Ilorin Kwara State by the benevolent Senator.
These people were not only trained but given start-off fund. Chief T. A. Orji also gave out 60 tricycles and 250 motorcycles to his constituents as well as facilitated the employment of many. The efficient and quality representation of Senator T. A. Orji like none in Abia Central since 1999 is also felt in road construction, provision of electricity, construction of new classroom blocks and other sundry amenities.  
For his legislative excellence, Senator T. A. Orji, a national merit award holder of Commander of the Niger, CON, was in 2020 recognised by the National Assembly as the highest performing former governor in the law-making body. He was equally voted as the most productive senator in the Red Chamber since 2016.
In 2018, the management of Vanguard and Authority newspapers separately crowned him senator of the year. Notwithstanding the loud ovation that his superlative performance and inculpable representation has continued to attract, this honest man, a rare breed of his generation is bowing out of politics in honour and with his integrity intact.  
Yes, Ochendo Global is bowing out at 72, as an elder statesman, and Igbo Leader by all standard. It is expected that he will in retirement from active politics, avail his wise counsel to the next generation of politicians to further deepen democratic governance in Abia State and the Nigeria at large.
Isiakpu, a Public Affairs Analyst, wrote from Umuahia