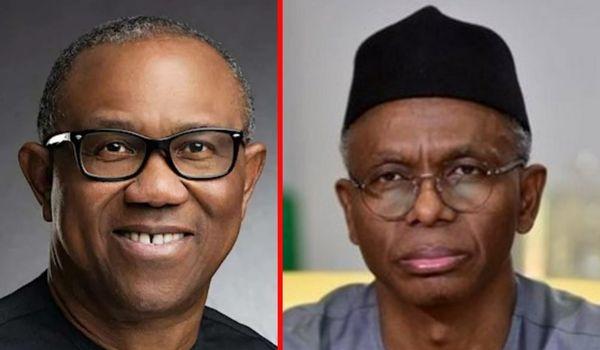 By Biodun Busari
The Governor of Kaduna State, Nasir El-Rufai, has described the presidential candidate of the Labour Party, Peter Obi, as a Nollywood actor.
According El-Rufai, the battle to succeed President Muhammadu Buhari is between the presidential candidates of the All Progressives Congress (APC) and the Peoples Democratic Party (PDP), Bola Tinubu and Atiku Abubakar respectively.
He said Obi does not have the political footprints to secure two-thirds of votes needed across the country to win the presidential election slated for February 25.
El-Rufai made these assertions during Journalists' Hangout on TVC on Thursday, stressing that the former Anambra state governor could not go far in the upcoming election.
"How can Peter Obi win any election? Peter Obi is doing 1 per cent in Sokoto, Kano etc. And these are the places the voters are," El-Rufai said.
"The fact that you do 70 per cent in Anambra does not mean you are better than someone with 10 per cent in Kano where you have about 4 million voters."
He said the surveys the APC had done exposed that the election would be tight but Tinubu was ahead.
"Peter Obi is a Nollywood actor and that is what he will be. He will not get anywhere. Asiwaju Bola Tinubu has support across Nigeria. By the grace of God we are going to win," El-Rufai said.