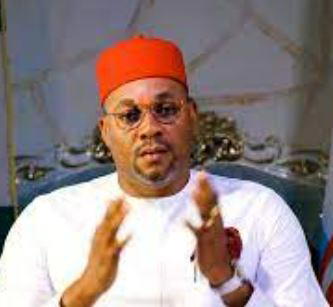 The All Progressives Congress, APC, House of Representatives candidate for Idemili North and South Federal Constituency in Anambra state, Hon. Ifeanyichukwu Ibezi has denied sponsoring the gruesome killings in the state.
Ibezi was reacting to a video produced by one Chukwuka Ofoegbu, a.k.a Ijele, accusing him of being behind the heinous murders in Anambra state.
Denying the allegation in a statement signed by Mr. Ubaka Onwuanibe , on behalf of Ibezi Media Team, Hon. Ibezi averred:
"What the producer and sponsor of the infantile and mendacious video did not bother to tell their listeners is the motive Hon. Ibezi may have had to sponsor such heinous crimes in Anambra. Why would Hon. Ifeanyichukwu Ibezi sponsor the death of the people the anonymous caller in the video mentioned.
"Could those unfortunate victims, who were not even from Idemili North and South Federal Constituency, and who were not politicians in any way, have stood in the way of Ibezi's political career? What value was their death to the progress or otherwise of Hon Ibezi's politics?
"For the avoidance of doubt, Hon. Ifeanyichukwu Ibezi has never and will never be part of any plot to maim or kill anybody. Given the seriousness of the allegations, Hon. Ibezi has already briefed appropriate security agencies and his lawyers over this unsavory development.
"Rather than be distracted, Hon. Ifeanyichukwu Ibezi will continue his intense and grassroots-focused campaigns in the 17 communities of Idemili, which have endeared him to Umu Idemili. Opponents should understand that 2023 election will be different and the electorate are wiser. Only achievements will count before them and not mudslinging.
"Hon. Ibezi wishes to thank many Nigerians, Ndi Anambra and Umu Idemili who have called to express their concerns and support. He reiterates his pledge to ensure robust, quality and effective representation if elected to represent the good people of Idemili North and South Federal Constituency at the 10th National Assembly come February 25, 2023."