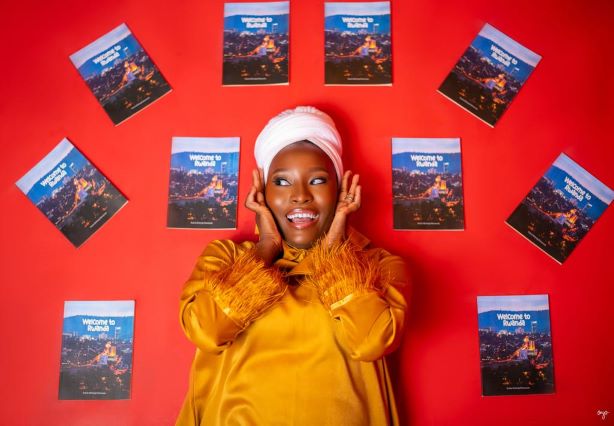 By Chukwuma Ajakah
In this romantic novel, Welcome to Rwanda, Nigerian author and marriage coach, Fateemah Mobolaji Suara, narrates the story of a young couple who finds love in a rather dramatic way.
Welcome to Rwanda has a panoramic setting as the events it chronicles occur in two African countries-Nigeria and Rwanda, with the featured characters drawn from Kenya, Nigeria and the Republic of Rwanda which shares borders with the Democratic Republic of Congo and Tanzania. Despite Africa's ill-luck of being buffeted with appalling political cultures, the novel mirrors the African continent as a place of beauty and grandeur with fascinating tales of a rich cultural heritage, aesthetics and untapped tourism potentials.
The novel has a simple plot structure which hinges on the life of the narrator whose accidental encounter with a total stranger in a riotous Lagos traffic later blossoms into an enchanting relationship, leading to a week-long get-away to an exotic hotel in Rwanda. The adventure provides the protagonist a much-needed relief from the boredom of Lagos with its peculiar challenges as depicted in the reminiscences of their rendezvous.
Welcome to Rwanda brings into focus certain historical, socio-cultural and economic realities prevalent in Nigeria and other countries. For instance, the critical role a typical African mother plays-albeit unsolicited, in her daughter's life prior to marriage. In the novel, the protagonist's mother exemplifies this traditional role as she engages her daughter in pep talks on chastity and sundry matters. But, for a mother's timely intervention and experienced eyes, neither the narrator nor her Kenyan friend, Akello, could recognize genuine love when it comes knocking.
However, this excerpted point of view undermines the importance of that role: "Although our millennial parents did not portray marriage right in our presence, we cannot exactly put the blame on our parents because we have all grown to know right from wrong. Our present generation does not want to show love or be committed."
Dominant themes featured in Welcome to Rwanda include love as an adventure, marriage, beauty of Africa, generational gap and importance of primary health care. Exploring the central theme of love as an adventure, the author weaves her accounts around storyline of two strangers who accidentally on each other in a not so friendly circumstance, only to soon realize they are madly in love and need a week-long getaway from the discomfiting socio-economic realities in Nigeria to a foreign country. The duo gets engaged while on the tip and the protagonist has this to say on the return journey: "We reminisced about our week-long experience, the joy of meeting new people and what the new experience meant for us as a couple. Wale slept. I day dreamed of wedding planning…"
Memorable sites gleaned from the novel include: Lake Kivu located at Kibuye, a border town with Democratic Republic of Congo, President Villa, Kigali Genocide Memorial, Kimironko Market, Inema Art Centre, Radisson Blu Hotel, Kigali International Airport and Convention Center Nyamata Church in Kigali, Rwanda. Using Rwanda and Nigeria as microcosms of Africa, the author depicts the beauty of the continent by ensconcing spectacular tourists' delights with images of Africa's abundant natural resources. Speaking of Nigeria's tourism potentials, the narrator says: "The Okumu Park features over 150 bird species and 33 species of mammals, including forest elephants and the Nigerian White Throated Monkey. There are natural beaches along the sea coast from Lagos to Port Harcourt, many unique hills, waterfalls, springs, caves, lakes throughout the country, many of them now fully developed for tourists' enjoyment and leisure."
In addition to dominant first-person narrative technique, Saura combines diverse literary devices, using an unnamed heroine as narrator, protagonist and a symbolic character. Characters like Wale, Simisola, Darasimi, John, Akello and the Rwandan tourist guide, Angeloti play minor but significant roles in developing the plot structure. Angeloti's role as a Rwandan contrast sharply with that of a typical Nigerian. As this excerpt suggests, his infectious patriotism is a rarity in Nigeria with respect to the socio-political cultures of both countries: "One could tell that he (Angeloti) was fulfilled by the way his face lit up with pride every time he spoke…Angeloti boasted a bit about Rwanda."
With a degree in Health Promotion and Environmental Health from the University of Ilorin, Saura brings her experience-as a health and marriage coach, to bear in this easy-to-read novel. Presented in an enthralling narrative style and spiced with humour and suspense, Welcome to Rwanda will make a delightful reading.