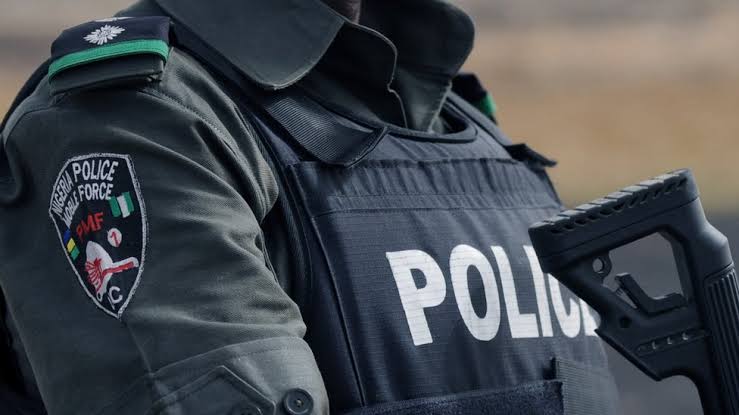 By Esther Onyegbula
Lagos State Police Command is investigating the video of a shooting incident by suspected thugs of a political party in Surulere area of Lagos on the social media and the emergence of another video last week showing a man wielding a pump action rifle and threatening public peace also on social media to know if they are connected, according to police spokesman, SP Benjamin Hundeyi.
Both videos had gone viral.
The video of the shooting incident had a group of thugs shooting in broad daylight in Surulere while the other video had a man wielding a pump action rifle and threatening public peace on social media.
It was on the basis of the shooting incident that Governor Babajide Sanwo-Olu declined last Sunday to participate in a debate organized by a church for governorship candidates of political parties in Lagos State ahead of the March 11 elections, saying he would not stand on the same platform with agents of violence.
A statement by the state government penultimate Saturday had said: "Lagos State government has noted the flood of comments sparked by the shocking video of a group of thugs shooting in broad daylight in Surulere.
"Security agencies are investigating the video, which has gone viral on the social media. We believe they will fish out and prosecute the evil actors, who are believed to be henchmen of the opposition Peoples Democratic Party (PDP).
"We condemn this savagery that has portrayed our state, the safest in Nigeria, in a bad light. That is not who we are; we are civilized and cultured.
"Following advice from competent sources, including elders and respectable Lagosians, we will henceforth shun any forum that may require us being together with PDP and its agents of violence.
"Consequently, Governor Babajide Sanwo-Olu regrets to announce that he will not be participating at The Platform Governorship Debate of January 29, 2023. The Governor holds Pastor Poju Oyemade and the Covenant Christian Church family in high esteem and cherishes future opportunities to engage the congregation and render accounts of his stewardship to them as integral parts of the Lagos electorate.
"We will never be found in the company of those to whom the lives of innocent Lagosians mean nothing. Mr Sanwo-Olu won't share a podium with them".
The police said it had launched a manhunt for the gunman in the other video suspected to be one Tajudeen Bakare who was said to have narrowly escaped arrest after detectives raided his Surulere home last week.
Speaking on both incidents, Hundeyi, in an interview with Sunday Vanguard at the weekend, said, "At the moment, I can't categorically connect the two incidents.
"However, an investigation is ongoing to determine if both incidents are related or not.
"In the statement released by the Command on Thursday, the reason we declared Tajudeen (Bakare) wanted was categorically stated.
"Tajudeen was declared wanted based on a video of him that went viral.
"Based on the video, the CSP Egbeyemi-led Rapid Response Squad (RRS), working on actionable intelligence, carried out a sting operation on the residence of the man in the Surulere area of the state.
"Three pump action rifles, one Beretta pistol magazine, one expended 9mm ammunition, one expended and three live cartridges and a picture frame of the suspect were found in the suspect's residence".
Meanwhile, it will be recalled that in 2021, Lagos State Ministry of Justice discontinued the murder charge filed against Bakare, a Yoruba Nation agitator, "due to lack of evidence".
Bakare had been arrested alongside 47 others during the July 3 Yoruba Nation rally held in Lagos.
They were charged to court for murder, unlawful assembly, unlawful society and conduct likely to cause the breach of public peace.
Specifically, they were accused of killing Jumoke Oyeleke, a 25-year-old trader who was hit by a stray bullet while the police were dispersing agitators at the rally.
Bakare was accused of being in possession of a Beretta pistol and two live ammunition with which he allegedly killed Oyeleke.