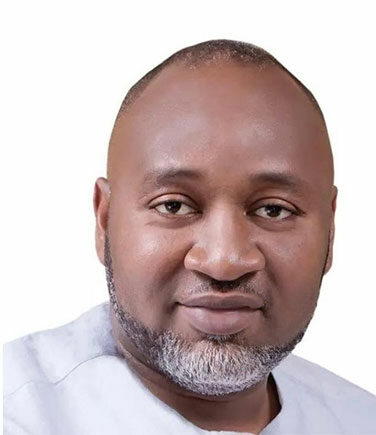 Kachikwu (left) and Moghalu

PRESIDENTIAL Candidate of the African Democratic Congress, ADC, Mr. Dumebi Kachikwu, has urged Nigerians to join forces and avert what he described as looming anarchy.
Kachikwu, who decried the raging fuel scarcity and cash crunch, said: "No money, no food, no power, no jobs, no security – all ingredients of anarchy. Nigerians don't deserve to have their country burn down because of an inept Government that continues to fight itself."
The politician, who promised to turn the fortunes of the country around, if elected, spoke on Monday in a virtual broadcast message to Nigerians ahead of the 2023 general polls.
The message read in part:
Our nation is in trouble. Desperate men are fighting over the soul of our nation and the Nigerian people have become casualties of war. How did we get here? How did our nation fail to the point that we have become immune to horror and death?
Priests are being killed. A judge was killed in Imo State, 42 vigilante members were killed in Katsina, the President's own State. Scores kidnapped and scores killed across the country either by herdsmen, bandits or terrorists, all in the last two weeks.
As if this is not bad enough, the most political Central Bank Governor in our nation's history seeks to plunge our nation into further chaos. How else can one explain this ill-conceived Naira Redesign policy that is rumoured to target a certain Presidential candidate from the Southwest but now threatens our very existence as a nation?
Nigerians are groaning in agony; people are being dehumanised as they endure long queues under the scorching sun to withdraw their hard-earned money. My heart broke as I watched the videos of those who stripped naked in banking halls all in a bid to collect their money.
How do you speak of cashless banking in a country plagued by epileptic telecom networks and power blackouts? Who is deceiving who? Many parts of Northern Nigeria don't have bank branches and lack the infrastructure to support e-banking. Was this not factored into the CBN Governor's plan?
What irks the most is the rumour that the same Presidential candidate this policy seems to target is the same person who frustrated the CBN Governor's rumoured bid for office. Is this now a case of tit-for-tat? Nigerians don't deserve this hardship especially at a time when fuel is not available in many parts of the country. People queue for hours for fuel only to be told they can't buy because they don't have cash and POS terminals are not working.
No money, no food, no power, no jobs, no security, all ingredients of anarchy. Nigerians don't deserve to have their country burn down because of an inept Government that continues to fight itself. There are certainly enough medical reasons for the APC to use to pressure their Presidential Candidate to withdraw from this race but destroying Nigeria is certainly not the way to do it.
I have long maintained that the continued presence of an obviously ailing Asiwaju Bola Ahmed Tinubu in this race is an embarrassment not only to the ruling party but to our entire nation. Don't we have any shame as a people? Don't we have any standards? This is 2023. Is this really the best the ruling party can offer to Nigerians?
We who suffered the indignity of having our President sick for several months in a foreign nation now have to deal with the indignity of a so-called leading Presidential candidate with far diminished cognitive abilities strutting around the country with thousands of Nigerians cheering him on.
Who are these Nigerians? People like you and me. Some don't care because they might have been induced to attend the rallies, others do it because they buy into the Emilokan message. It is my turn. What an insult to the Nigerian people.
It is your turn to do what exactly? Pauperise the people some more, destroy what's left of our children's future or use the instrument of office to go after real and perceived enemies? The APC candidate has the boldness to say Emilokan because others have said it is the turn of the Igbo while there are those who believe that being a Northerner in a frontline party is their only strategy to win this election.
This is all the so called leading candidates have to offer Nigerians; division by tribe and division by religion. They have refused to campaign on the issues and have shunned debates. How then can they confront our myriad problems if per chance they are elected to office?
Our nation is plagued by a Covid induced inflation and recession like most nations but in our own case the managers of our economy have run out of ideas. Some of those who seek to take over from them are no better.
Fighting graft
How do we deal with the corruption at our ports that is at the heart of inflation in an import dependent economy? How do we stem the brain drain and keep our middle class happy and content in a working Nigeria?
How do we defend our borders, secure our highways and protect our farmlands? How do we bring the aggrieved Ibos back to an equitable table? How do we repay our loans and balance our budget? How do we recreate the value our naira once had?
How do we create good paying jobs for tens of millions of Nigerians who are in despair? How do we rid our nation of nepotism and mediocrity? How do we enshrine meritocracy and excellence in our nation's DNA? How do we protect and support the weak, the elderly, our youths and women?
Fixing infrastructure
How do we fix our infrastructural deficits, refocus and revive the educational sector and rebuild our healthcare sector from the ground up? How do we masterplan and build out modern cities across Nigeria, grow our broadband networks and stem the rural to urban migration that threatens the economy of most states?
Building a corrupt-free nation
How do we build a nation that is free from corruption, institute a people's constitution and ensure that Nigeria will forever be known as a nation that works for everyone? So many questions begging for answers and solutions but it seems that some Nigerians are more interested in nice sounding phrases and cliches.
You clap when they tell you from consumption to production. Produce what, where and when? It is your right to ask questions. How do we enter an election like this without debating or discussing the issues? What is wrong with us? We create problems and then bring in a spiritual dimension.
Need for genuine leadership not religion manipulators
We can't continue to use churches and mosques to manipulate the emotions of the gullible. Our nation is in need of genuine leadership and not fake thus saith the Lord. This is how we got here in the first place with President Buhari and now after eight years of a failed Presidency you come again with your fake prophecies and predictions.
I have a prediction of my own. If you don't stop dividing Nigeria with religion, the day is coming very soon when the poor masses will have their say. And on that day, I pray that God hears your prayers. Anarchy looms. People are suffering. Hardship everywhere and nobody seems to care.
This is unconscionable. President Buhari, I don't know what your handlers are telling you, but I hope you hear what I am about to say. Nigeria failed spectacularly under your watch. There is still a long journey between failure and destruction, but it appears there are those who want our nation to be destroyed on your watch. You must reverse course now.
What Buhari must do now
Fire the CBN Governor, support and institute an independent and corruption free judiciary, strengthen law enforcement and ensure that INEC conducts free and fair elections. You must reject any and every suggestion of an interim government. Nigerians will reject it no matter the cost to our nationhood.
My dear Nigerians, all hope is not lost. The elections before us presents our nation with an opportunity to go in a completely different direction. Those four Presidential candidates who the media has sold to us as the frontrunners are no different from each other. If you elect any of them into office, that same day they will all meet to celebrate and share the spoils of war.
Do not be deceived again. Please open your eyes and see that it is possible for us to get it right this time. Imagine a Nigeria that is united, strong, peaceful and respected by all. Imagine a Nigeria that understands that her people are her true assets. Imagine a Nigeria that permanently retires all those ethnic champions who seek to divide and destroy us.
Imagine a Nigeria free from greed and corruption. Imagine a Nigeria that boasts the best schools, world class healthcare, good road networks, 24/7 power and affordable broadband that is a right and not a privilege. Imagine a Nigeria that leaves no man, woman or child behind irrespective of tongue, tribe and religion.
A new Nigeria's possible
Imagine a Nigeria whose borders are secure, highways are safe and farmlands the food bank of the world. Imagine a Nigeria which middleclass remain in Nigeria, whose youths are employable and employed, whose economy rivals and outperforms the best economies in the world.
Is this possible in our lifetime? Yes it is. It is possible in a few weeks if we all vote right. Don't let them tell you that a vote for me is a wasted vote because I won't win. Democracy implies that you vote for who you believe can do the job and not who you think can win. They have conspired against us for too long. They have kept us down for too long. They have wasted our potential for too long. They have destroyed our today and tomorrow for too long.
Together we can take a stand and say never again. Together we can rescue our nation. Together we can start again. Please join me in this rescue mission. Let us make history together.