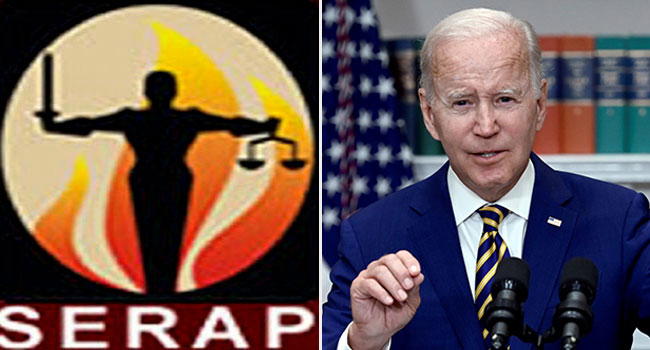 By Biodun Busari  
The Socio-Economic Rights and Accountability Project (SERAP) has urged the United States President, Joe Biden to restrict Nigerian government officials, politicians and other perpetrators and sponsors of violence during the presidential and National Assembly elections on Saturday.
Vanguard reported yesterday that Saturday elections were faced with some violence in some states, including snatching of ballot boxes as Nigerians trooped out to the polling units to elect a new president and members of the National Assembly for a four-year tenure.
Some states with reported cases of election-related intimidation, harassment, and violence include Akwa Ibom, Enugu, Gombe, Lagos, Edo, Ogun, Osun, Rivers, and Taraba states, and the Federal Capital Territory.
Meanwhile, the Independent National Electoral Commission (INEC), postponed elections in some places till today while it was indefinite in some places including 141 polling units in Yenagoa, the capital of Bayelsa State.
A day after, SERAP issued a statement, asking Biden to exercise his powers "pursuant to the Presidential Proclamations 7750 and 8697 and the Immigration and Nationality Act to ban Nigerian officials, politicians and other perpetrators and sponsors of violence during the just concluded elections."
SERAP Deputy Director, Kolawole Oluwadare, President Biden to "block or revoke the visas of anyone suspected to be responsible for cases of intimidation, harassment, and violence during the elections, and to impose asset freezes and property sanctions on them and their families."
"The imposition of targeted sanctions against suspected perpetrators and sponsors of election-related violence in Nigeria would promote accountability, end impunity, and deter human rights violations," the statement read.
"Applying the presidential proclamations, Global Magnitsky Act, and Immigration and Nationality Act as recommended would be very helpful to the efforts to stop further violence before, during, and after elections, facilitate free and fair elections, and encourage the people to exercise their right to vote.
"Armed thugs snatched ballot boxes, took away election materials, broke chairs, and dispersed voters in several areas in Kogi State, including in Anyigba Dekina towns. Thugs also reportedly attacked polling units in polling units in Niger, Delta, and Katsina states, stealing at least eight BVAS machines."