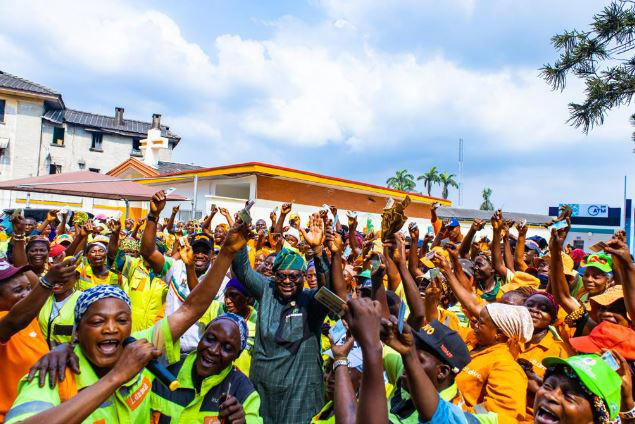 ...As sweepers reiterate support for 2nd term
By Olasunkanmi Akoni
Lagos State Governor, Bababjide Sanwo-Olu, has approved immediate implementation of salary increase across the board by 20 per cent for sanitation workers in the state
The Managing Director of Lagos Waste Management Authority, LAWMA, Ibrahim Odumboni, who announced this on Wednesday, said the approval was in fulfilment of governor's promise made at the recent rally organised by the Association of Waste Managers of Nigeria, AWAMN, in support of the presidential bid of Bola Tinubu and re-election of Sanwo-Olu.
Odumboni made this announcement during a meeting with the sweepers at LAWMA's headquarters, Ijora-Olopa, where he also revealed that they would be provided with new work tools such as overalls, boots, personal protective equipment (PPE) among others which would enable them to discharge their duties effectively.
He expressed Sanwo-Olu led administration's commitment to providing the necessary support for the sweepers to carry out their roles efficiently.
LAWMA boss therefore, admonished the sanitation workers to ensure they perform their civic responsibility by voting at the forthcoming elections.
Odumboni, urged them to spread the word to their neighbourhoods and exercise their voting rights, "the government is counting on you to make your voices heard through your votes."
He continued: "We commend the APC presidential candidate, Tinubu, who introduced the PSP and street sweeping schemes during his tenure as Lagos State governor.
"He laid the foundation for effective waste management, which the state is currently benefiting from.
"This increase in salary and provision of work tools for the sweepers is a positive step towards improving their working conditions and ensuring they have the necessary resources to perform their duties effectively.
"It is also a clear indication of the government's commitment to providing support to the hardworking sanitation workers who perform their duties to sanitise the environment."
Responding, the sweepers, chanting "On your mandate we shall stand" and waving their Permanent Voters' Cards (PVCs) in support of Tinubu's presidential ambition and second term bid of Sanwo-Olu, promised to cast their votes at the elections, expressing their gratitude to the state government for remembering them during the present period.
They also praised Sanwo-Olu led administration for its efforts in improving the lives of the sweepers and for recognising their contributions to the society.