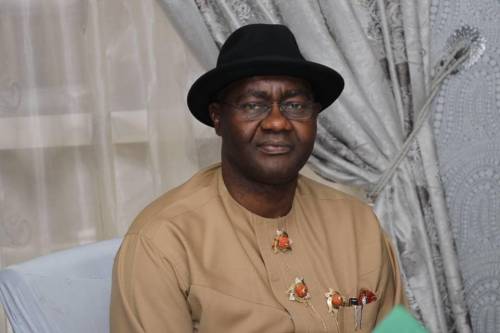 Senator Magnus Abe
.
If I'm arrested, please go & vote, he tells Rivers supporters
Stop raising false alarm, Wike warns Abe
By Egufe Yafugborhi, PORT HARCOURT
RIVERS state governorship candidate of the Social Democratic Party (SDP), Sen Magnus Abe has alleged a conspiracy between the Peoples Democratic Party (PDP) and security operatives to arrest him and other leaders of his party ahead of the elections.
Abe in Port Harcourt Tuesday at the inauguration of the Rivers SDP Campaign Council with Sen Wilson Ake as Director General, raised the alarm a day after Governor Nyesom Wike warned him against raising false alarms over his governorship pursuit.
The Rivers governorship hopeful told his supporters, "I have received very credible reports that names of certain leaders and members of the SDP have been compiled on frivolous allegations and petitions with arrangements concluded with some security agencies acting more like the armed wing of Rivers PDP to arrest and detain them"
The SPD candidate said the intention is to restrain them from leading the growing force to vote him as the people's choice to lead a new River of prosperity for all, adding that those plotting their arrest believe without these persons being targeted, he would not be able to win.
Charging the people not to be intimidated, Abe said, "The final solution to the challenges of Rivers is at hand. All we need do is agree that no matter what happens, on 25 February when these elections will start and 11 March when the state elections hold, all Rivers residents alive, that can walk and breathe must come out and vote.
"If I'm arrested, please go and vote. If you are arrested, I will go and vote. Once we finish voting, I will remind everybody, Executive Orders 21, and 22, will still be in force on 29 May when I will take oath as the Governor of Rivers state.
Meanwhile, Governor Wike at Monday's Rivers PDP campaign rally in Buguma, Askari-Toru LGA had warned Abe who has suffered repeated political attacks ahead of the elections to "stop raising the unnecessary alarm" in the media.
Kelvin Ebiri, Media Aide to the Governor, quoted Wike at the rally as recalling that, "Senator Abe has a penchant for raising a false alarm. Rivers people know there was a time Abe faked being a victim of the gun shoot, yet could not produce a doctor's report to the police to substantiate the claim.
"The kind of popularity that wins the election is not secured in the media with false alarms, but achieved with levels of direct relationship sustained with the people."