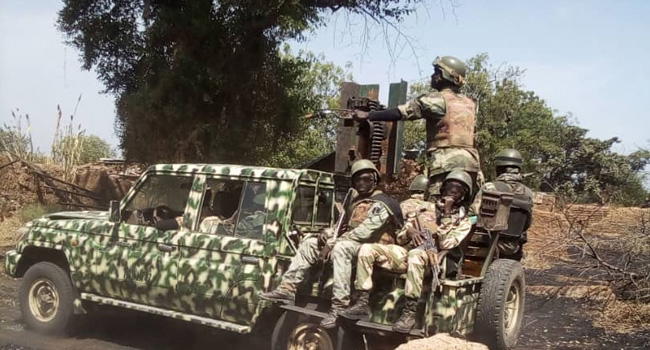 By Esther Onyegbula
The General Officer Commanding, GOC, 81 Division of Nigeria Army, Major-General Obinna Ajunwa, has charged soldiers to maintain a high level of discipline, commitment and incorruptibility during the forthcoming  general elections.
The GOC gave the advice at the end of year 2022 West African Social Activities, WASA, of 15 Engineering Regiment of Nigerian Army, in Badagry on Saturday.
He said: "Our cameras will be watching you because we want these elections to be free and fair and in consonance with the directive of the Commander-in-Chief of the Armed Forces, President Muhammadu Buhari.
"Soldiers must remain apolitical, we don't want to lose any blood, we don't want to lose any soldier or civilian during the general elections.
"We don't want blood to be shed. If there is any challenge from any person who is trying to cause mayhem, you should take decisive action to make sure it is checked."
On WASA, Ajunwa said the occasion was for soldiers to relax and wine with families and relatives after the 2022 engagement.
"From January to the end of the year, soldiers are engaged in one activity or the other in terms of training, exercise and operations, among others.
"So, WASA is marking the end of the year for soldiers, so they can wine and dine with their families, friends and host communities in preparation for the subsequent year," he said.
Ajunwa assured host communities that the presence of soldiers or barracks always brought peace and development to their areas.
In his remarks, Lt. Col. Ibrahim Liadi, Commanding Officer, 15 Engineering Regiment, said WASA in Nigerian Armed Forces was an age-long military tradition aimed at bringing officers, soldiers and families to socialize with their civilian friends.
He said the event equally showcased Nigerian rich cultural heritage and provided an opportunity for security stakeholders to interact towards achieving peaceful co-existence within and around host communities.
'This event today is to purposely mark the end of activities for the year 2022 and kick-start another year in which we just spent a month."