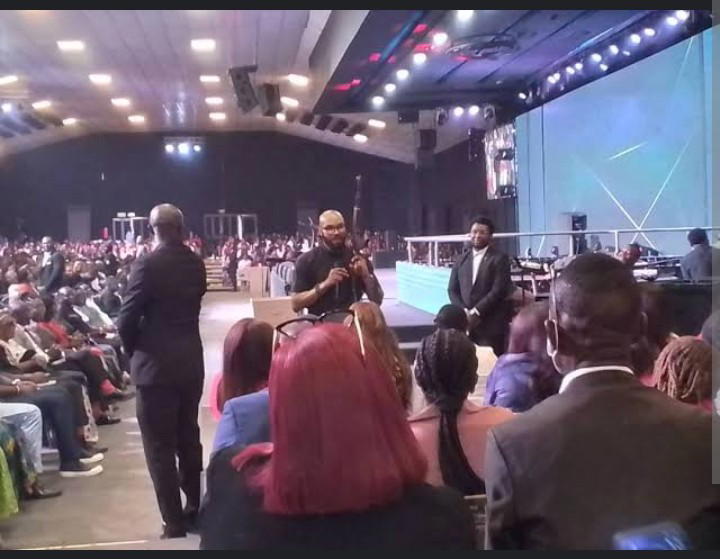 The Nigeria Police Force has invited presiding pastor of the Abuja chapter of the House on the Rock, Pastor Uche Aigbe for mounting the pulpit bearing an AK 47 rifle during ministration on Sunday. 
The incident which caused a stir in the church auditorium happened during the second service, which frequently has a high number of the congregation who attends from different parts of the nation's capital. 
Wielding the gun, the pastor found his way to the altar as many members of his congregation were alarmed trying to figure out what was happening.
The unperturbed clergyman walked up to the lectern, aware of the tension his action had created, without looking at his worshippers.
He, however, made an attempt to open his Bible, and said jokingly, "Some people are looking for my trouble. And I came here prepared.
"Today, there are some pastors with gift of divination who go about ripping people. This is why we should carry our 'guns' and defend ourselves. I will particularly be coming very soon for some of you sleeping in the church."
However, his action did not go down well with some Nigerians who mounted pressure on security agencies to invite the cleric for questioning.
Confirming that the cleric has been invited on Monday, Force Public Relations Officer, Prince Olumuyiwa Adejobi during an interaction with a Twitter user, said: "We have requested the video of the service to hear what the pastor was saying. How did he get the gun, maybe from a security agent. He has been invited by the CP FCT. IGP has ordered the CP FCT to handle it and revert so that Nigerians will know what transpired."