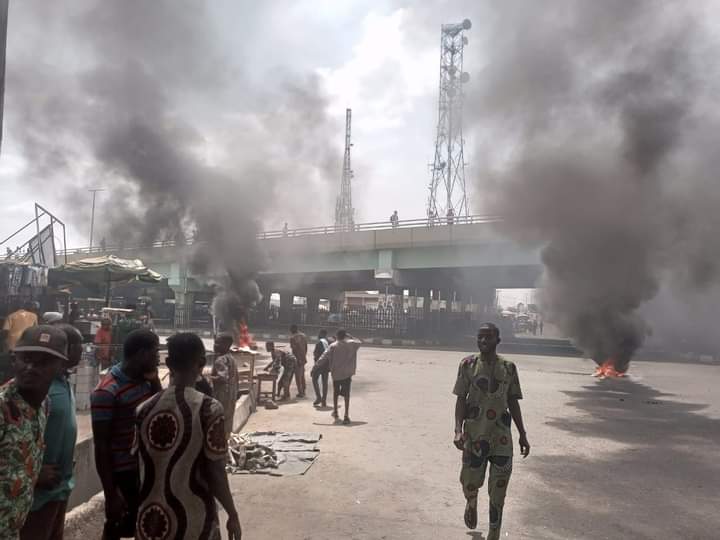 The civil unrest early on Monday morning has now spread to Agege, Ikorodu and other parts of Lagos State.
Pandemonium broke out in some parts of state in the early hours, on Friday, as some aggrieved persons suspected to be hoodlums stormed major roads in protest of the naira scarcity in the state.
The protesters stormed Mile-12, Ketu, Ojota area, along Ikorodu Road, and Iyana-Ipaja around 6.am.
Recall that there is been a growing anger over the cash crisis resulting from the Central Bank of Nigeria currency redesign policy which boiled over on Wednesday as protesting customers torched banks and destroyed Automated Teller Machines in Edo and Delta states.
This development came even as thousands of commuters were stranded following the rejection of the old naira notes by transporters operating in the state capital.
Meanwhile, the Supreme Court has said its February 8 order restraining the Federal Government and its agencies from enforcing the February 10 deadline for the use of old N200, N500 and N1000 naira notes still subsists.
The court made the clarification, on Wednesday, following a complaint by the counsel to Kaduna, Kogi and Zamfara states, Abdulhakeem Mustapha, SAN, that the Federal Government and its agencies had failed to comply with the order and had allegedly directed the rejection of the old notes.
In the nationwide address, President Buhari, On Thursday, approved that only the old N200 notes should co-exist with the new notes for 60 days.
He also called on the CBN to ensure that any institution or person(s) found to have impeded or sabotaged the implementation was made to bear the full weight of the law.
This is even as the governor of the Central Bank of Nigeria, CBN, Mr. Godwin Emefiele, on Thursday, appealed to Nigerians to allow the naira redesign policy of the government to work.
Vanguard can confirm that the protest has now spread to Agege, Ikorodu, Iyana Iba and other parts of the state.
Motorists and residents who were on their way to different places of work hurriedly turned back in panic as the rioters went berserk with bonfire set across the road.