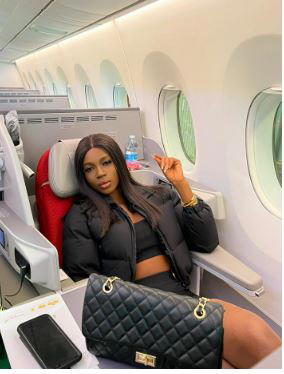 The life's story of Nigerian entrepreneur, Onwualor Chiamaka, owner of Omabeauteparlour Salon cannot be complete without taking into account her life as a model. She may have made good of her life as a boss lady in the beauty space but her life's journey began as a model, a fact, which she still revels in.
In a recent chat with VANGUARD, the lady born and raised in Anambra State shares some tips on what it takes to weather the storm as a model, raising several key points wannabe and aspiring models should look out for and accept as part and parcel of the modeling enclave.
According to her, life as a model was a mix of highs and lows, with some amazing experiences and opportunities, as well as some challenges and setbacks. And she highlights a few lessons she learned along the way.
Her first point is hinged on confidence, accepting rejection, self-care and professionalism amongst other points to keep in the mind.
"Confidence is key. Modeling requires a lot of confidence, both in yourself and in front of the camera. It's important to learn how to carry yourself with poise and grace, and to feel comfortable in your own skin. This takes practice and self-awareness, but it's essential for success in the industry.
"Rejection is a part of the game: As a model, you will hear the word "no" more often than "yes." It can be tough to deal with rejection, but it's important to remember that it's not personal. The industry is highly competitive, and there are many factors that go into casting decisions.
"Taking care of yourself is crucial: The modeling industry can be demanding, both physically and mentally. It's important to prioritize self-care and take care of yourself both on and off the job. This includes getting enough sleep, eating a healthy diet, staying active, and practicing mindfulness and stress management techniques.
"Professionalism is key: Being a professional model means showing up on time, being prepared and organized, and treating everyone with respect and kindness. This includes photographers, stylists, makeup artists, and other members of the team," she states.
Onwualor Chiamaka, further states that networking is essential as well as building relationships and networking within the industry. She said it can open up new opportunities and help you grow your career.
"It's important to be friendly and approachable, and to make a good impression on everyone you work with. Overall, my time as a model has taught me a lot about perseverance, resilience, and the importance of staying true to myself. It's a challenging but rewarding industry, and I'm grateful for the experiences and lessons I've gained along the way," she added.
Onwualor began as a model in 2013 and has made appearances in numerous magazines. She competed in different beauty pageants and also stood out for her amazing personality.
She became known after contesting for the Miss Charismatic Nigeria (MCN) beauty pageant and also joined Black Dove models.
Ever since she rose to fame, she has done lots of TV and billboard commercials.
Onwualor Chiamaka owns one of the biggest salons in two cities, "Omabeauteparlour Salon," one, in Owerri, Imo State and another one in Osapa London, Lekki, Lagos State.