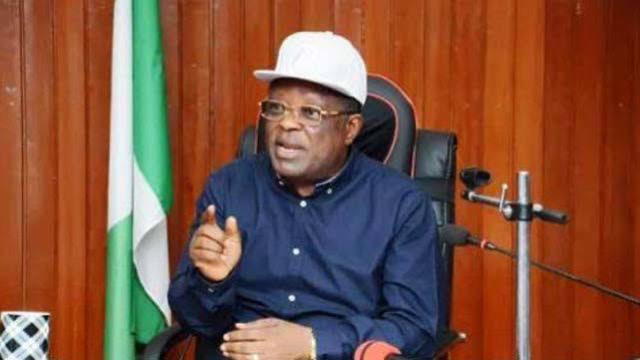 Governor David Umahi
.
…situation is pathetic, painful – Afikpo South Chair laments
…I have told my wife to take my kids to Abakaliki – Native
By Peter Okutu, Abakaliki
The communal clashes between the people of Oso-Edda, Amasiri and Nde Ndukwe Communities in Ebonyi State took turn for the worse as one person was feared dead, while about four persons were abducted but later freed in a fresh crisis that erupted in the affected communities.
Vanguard gathered that properties worth millions of naira were allegedly destroyed in the crisis.
Oso-Edda is in Afikpo South Local Government Area while Amasiri and Nde Ndukwe communities are in Afikpo North Local Government Area of the State.
The affected Communities have been having a dispute over a land at their boundary location for many years now but it has been managed by both sides of the divide from snowballing into a mayhem.
Details of how the clashes started were still sketchy at this time but sources in the area alleged that the Nde Ndukwe and Amasiri people invaded farm settlement villages in Ọsọ-Edda and started destroying houses, farm produce and every property in sight.
The invasion started on Mondáy and lasted till Wednesday when security agencies stepped in to restore normalcy.
It was learnt that one Chima Orji of Idima Autonomous Community in Afikpo South Local Government Area was was brutally murdered and beheaded.
The head was taken away by the invaders and is yet to be found at the time of this report.
Worst hit is Okporojo village in Oso-Edda, which is said to have been reduced to rubbles and ruins.
Four persons were abducted but were later freed after a peace meeting organized by the Chairmen of both councils in conjunction with some Monarchs and Head of Security Agencies in the area.
The Chairman of Afikpo South Local Government Area, Chima Ekumankama confirmed the incident in a statement.
He described the situation as pathetic and painful and called on the entire Edda clan to remain law abiding.
He said the situation has been brought under control by security agencies in the State.
"I Hon. Prince Chima Ekumankama wishes to call on the good people of Okporojo, Oso and Edda Clan in general to remain calm and law abiding over the unwarranted invasion of Okporojo in Oso and other part of Edda Clan by our neighbours of Nde Ndukwe and Amasiri of Afikpo North LGA, where properties, farm produce worth millions of naira and a life was lost.
"The situation is pathetic and painful, thus while I sympathise with all those affected, I implore the good people of Oso and Edda in general to remain calm and go about their lawful businesses as the situation is under control", he said.
Mr Ekumankama said 'it is very wrong and barbaric for anyone to take another's life under whatever guise'.
He implored security agencies to deal decisively with anyone found breaking the laws of the land.
Chairman of Afikpo South Local Government Area, Chima Ekumankama, also confirmed the release of the abducted persons.
He said his administration is working with security agencies to quell the situation and prevent a reoccurrence.
Police spokesperson, Chris Anyanwu said he was waiting for report from the Divisional Police in the area before commenting on the incident.
"Once I get the authenticated information about what is going on there, then I will react", he said.
This development has caused a scare in the area as some rural dwellers, including business owners were reported to have started migrating to Abakaliki for safety.
A native of Oso Edda community who didn't want his name in print said 'I really don't understand the reason for this crisis. I travelled and started hearing about this ugly episode. I have told my wife to take my kids back to Abakaliki. I don't want to hear any story."