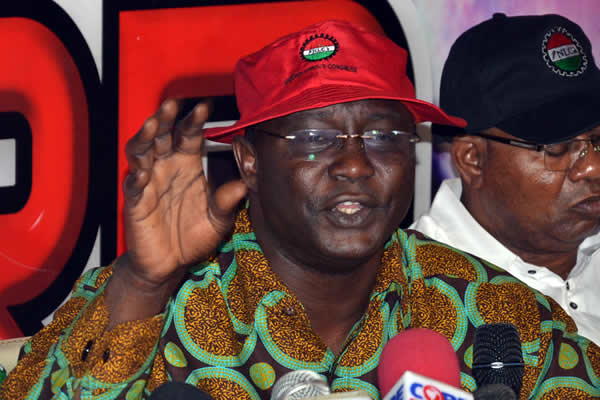 NLC President, Mr. Ayuba Wabba
.
*Says there are elements within the political class working to scuttle polls
By Victor Ahiuma-Young & Favour Ulebor, Abuja
Organised Labour, yesterday called on the Federal Government to immediately address the worsening fuel scarcity and cash to avoid civil unrest in the country.
Welcoming guests and delegates to the 13th Quadrennial National Delegates Conference of Nigeria Labour Congress, NLC, held at the International Conference Center, Abuja, President of NLC, Ayuba Wabba,condemned the unending fuel scarcity across the country as well as scarcity of the newly redesigned Naira notes.
The outgoing NLC said it is unacceptable that many Nigerians can no longer access their money lodged at the banks.
According to him, "This conference is taking place at a time whereby many Nigerians have been pushed to the wall and queuing up endlessly at banks to access new currency notes and queuing at fuel stations for fuel. This is definitely unacceptable because we have more than enough to address these challenges. We are a major oil producing country and a member of OPEC, but we are still importing.
"We must have smooth transition because we fought for democracy and we must continue to enjoy democracy . We don't understand the rational that you lodge your money in your bank account, yet you are limited to withdrawing what you want to use. No economy in the world has practiced this economy model.
"But importantly, people forget that our economy is rural and informal , so therefore people need to transact business in cash. Go to our local Market, our community market, you will see people transacting business in cash, certainly this policy if not addressed within the shortest possible time, nobody can predict what will be the outcome.
"We have seen a situation where people are protesting In banks, they want to access their money, yet they couldn't access the money.
"There is a theory that possibly we are also working towards making sure that the forth coming election does not take place in an atmosphere of peace and tranquility. And that is why Labour have refrained from protesting and have decided that we will make sure that we are able to have a peaceful transition, because we fought democracy, we supported democracy, we did our best for democracy and therefore, we will continue to support democracy.
"So our political elites must understand the situation and the challenge that People are going through, infact people from Abuja, with few money that they have, had to be sending money to their colleagues else where, outside Abuja.
This is the situation, and therefore we have not bargained for this, it is one situation that we want it addressed very urgently and quickly."
"Labour had two choices to make either to protest and shut down the country in these last few days to the election or endure this hardship and reply those causing this confusion with our PVCs. It is being alluded that those behind these difficulties do not want the 2023 general election to hold thus endangering our democracy.
Continuing, Wabba said among others said "Labour understands the value of democracy having fought for and paid a huge price to restore democracy. That is why we refused to take the first option which could have easily degenerated to a more chaotic situation.
"A major source of worry for workers and majority of citizens, however, is the failure of the political class to invest the required hard work and conscientious governance to ensure the transformation of the Nigerian economy from a primary subsistence production mode to secondary and tertiary economic platforms with increased value addition to our local raw materials and minerals. For many Nigerians, it is not difficult to see the link between poor economic outcomes, official corruption, and the consumptive nature of our economy.
Dear comrades, distinguished guests, it is important to reiterate our demand in the 2019 NLC National Delegates for the removal of immunity against criminal prosecution, especially corruption cases for all political office holders as is the case in other countries."
Speaking, Vice President Yemi Osinbajo, among others said "The Labour Union and other group that are charged with the protection of economic, civil and political rights must vigilantly priorities the protection of the civil space.
On the forthcoming general elections, the Vice President pleaded with NLC to work with INEC on PVCs' collection, saying "the ultimate demonstration of the power of the people is the right to freely elect leaders of our choice. It is through the instrumentality of the ballot, that citizens regulate and discipline their leaders and hold them to account , and in a few weeks, Nigerians will have the opportunity to demonstrate that power by voting candidates and parties that we will be needing and who can manifest the future that we want. And I believe that that is a role where the Labour Congress intreats that we must ensure that not only that the election is free and fair but must also promote the rights of people untill they possess their PVCs.
"There are many places now where are saying we still don't have PVCs, perhaps there is a need for labour congress to help with the mobilization of INEC and the resources to ensure that everybody who wants to vote actually have a PVC before the date of the elections."