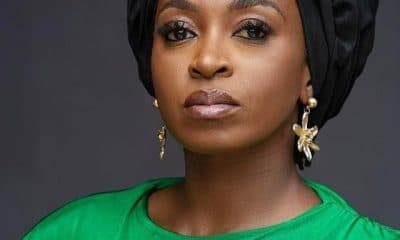 By Ada Osadebe
Nollywood actor, Kate Henshaw has reacted to the statement by the Kaduna State governor, Nasir el-Rufai saying the presidential candidate of the Labour Party for the 2023 elections in Nigeria, Peter Obi, is a "Nollywood actor."
Recall that El-Rufai had described Peter Obi, as a Nollywood actor.
El-Rufai made this assertion during an interview on Journalists' Hangout on TVC on Thursday, stressing that the former Anambra state governor could not go far in the upcoming election.
According to El-Rufai, the battle to succeed President Muhammadu Buhari is between the presidential candidates of the All Progressives Congress (APC) and the Peoples Democratic Party (PDP), Bola Tinubu and Atiku Abubakar respectively.
He said Obi does not have the political footprints to secure two-thirds of votes needed across the country to win the presidential election slated for February 25.
Reacting to El-Rufai's statement, Henshaw said in a statement issued on Saturday on behalf of the AGN President, Emeka Rollas.
The statement reads, "The attention of the leadership of the Actors Guild of Nigeria has been drawn to a derogatory statement made by the diminutive governor of Kaduna state, Mallam Nasir El-Rufai, referring to one of the presidential aspirants as a 'Nollywood Actor" the statement reads.
"The statement is intended to belittle and demean the intellectual capacity of an actor. Using actors to make sarcastic examples of an unintelligent person is arrogant and condescending of a public office holder.
"The statement is very offensive and demeaning to the Actors Guild of Nigeria and Nollywood as a whole as it was purely intended to deride the acting profession. Nollywood Actors have in no small way projected the image of our dear country positively from the negative perception the likes of El Rufai and his cohorts have portrayed us to be.
"The Guild is utterly bewildered by this kind of statement from a sitting governor who claims to be educated and intelligent, referring to a noble profession of intelligentsia endowed with uncommon talent. Chief Rollas lamented that it is quite unfortunate, as it portrays the Governor's ignorance of the pivotal role of the actor in the emerging global creative economy after many years of his checkered sojourn in government.
"Little wonder Nigeria is battling from serious economic quagmire after many years of clueless leadership who depend solely on the oil industry as they are bereft of ideas to grow and develop the country.
"Chief Rollas asserted that actors are intelligent, educated, creative, and highly endowed with ingenious capacity to lead and develop Nigeria more than some average leaders in government houses today."