By Paul Mbagwu
Lagos, Kano, and Kaduna among other states will determine the presidential candidate that would succeed President Muhammadu Buhari on May 29, judging from the number of Nigerians who have collected their PVCs to vote, according to statistics released by the Independent National Electoral Commission, INEC.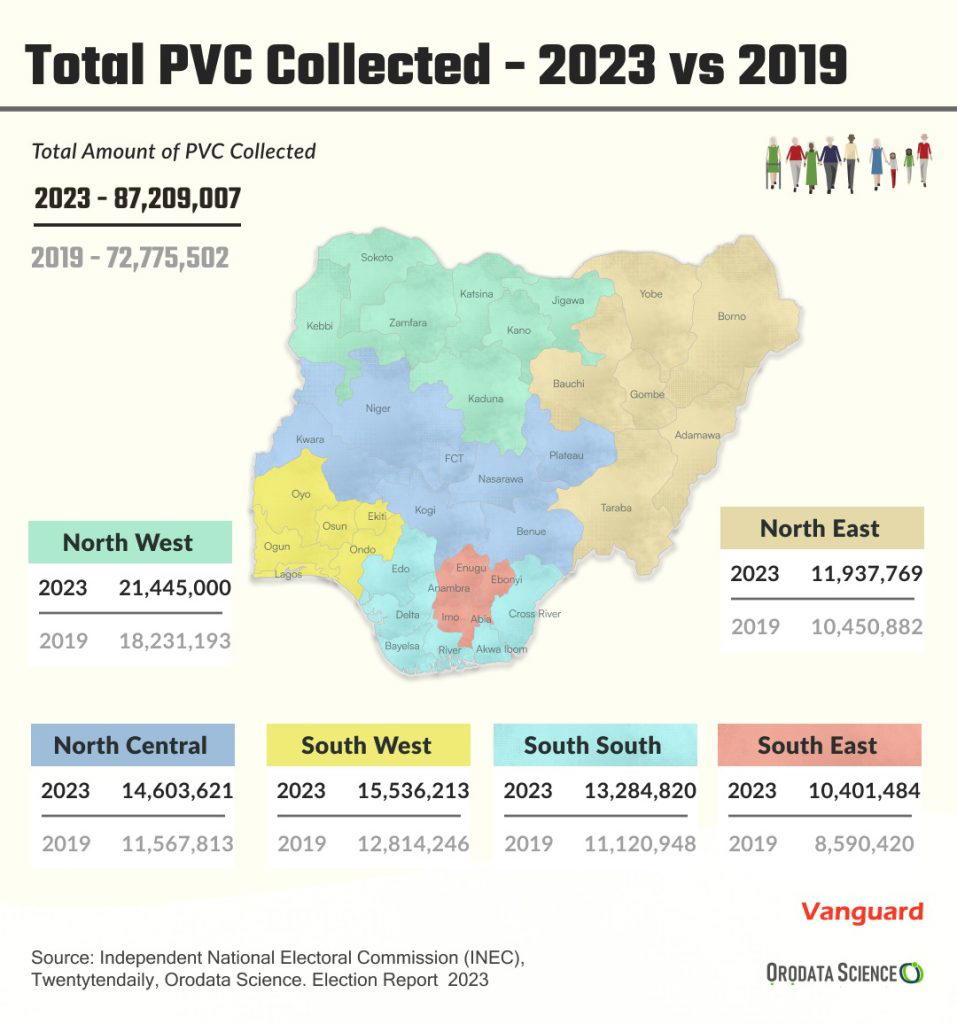 Of the 18 presidential candidates, the next president, according to experts, is swinging towards, Senator Bola Ahmed Tinubu of the All Progressives Congress (APC), Atiku Abubakar of the Peoples Democratic Party (PDP); Peter Obi of the Labour Party (LP) and Sen. Rabiu Musa Kwankwaso of the New Nigeria Peoples Party (NNPP).
In a state-by-state breakdown of PVCs collected captured in an infographic by Orodata in partnership with Vanguard, Lagos has the highest figure of 6,214,970, followed by Kano with 5,594,193; Kaduna, 4,164,473; Katsina, 3,459,945; and, Rivers, 3,285,785.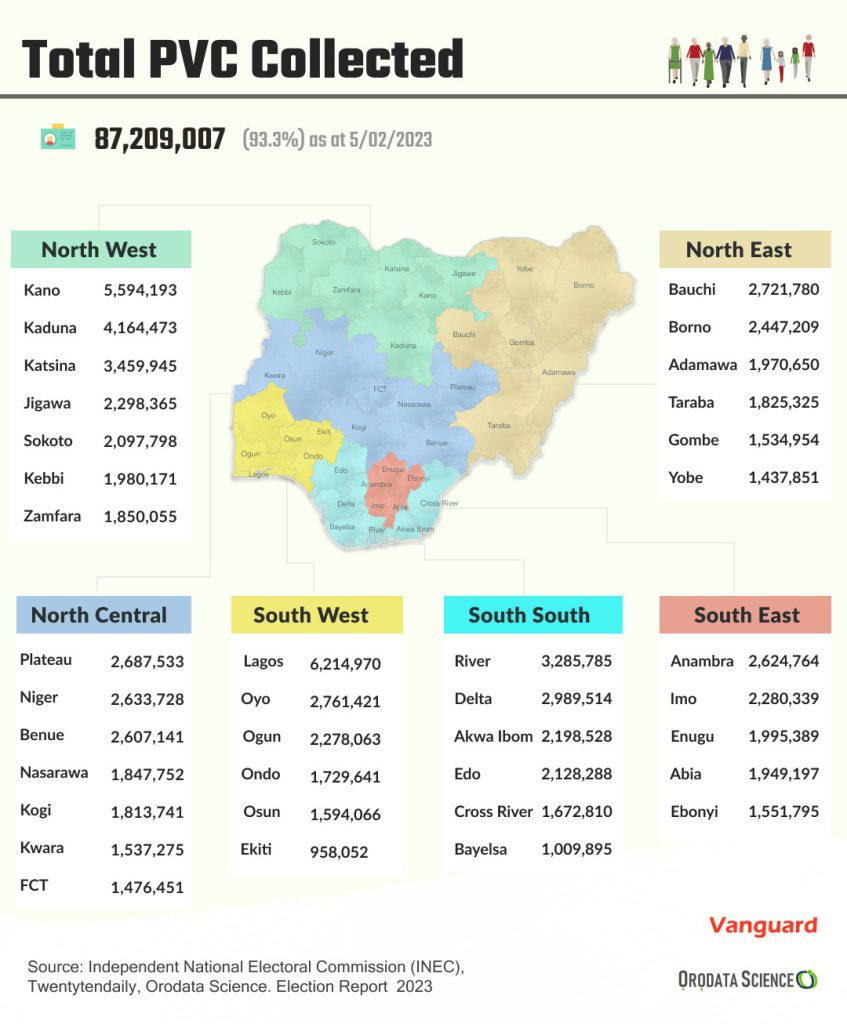 Ekiti which has the lowest number of registered voters also has the lowest number of PVCs collected – 958, 052.
A summation of PVCs collected on the basis of geopolitical zones showed that the North-West has 21,445,000; the South-West, 15,536,213; North-Central, 14,603,621; South-South, 13,284,920; North-East, 11,937,769; and, South-East, 10,401,484.
Recall that INEC cleared 87,209,007 voters out of the 93.5 million it registered to vote in tomorrow's Presidential and National Assembly elections and the March 11 governorship and state Assembly polls.
The electoral umpire registered 93,469,008 persons for the election. But, yesterday, the electoral body said a total of 87,209,007 Permanent Voter Cards (PVCs) were collected by eligible registrants for the elections.
The 87.2 million voters were the number of people who collected their Permanent Voters Cards, PVCs, as of February 5 when the deadline to collect the cards ended.
According to the data released, yesterday, the number of uncollected PVCs stood at 6,259,229. Nigeria has a registered voting population of 93,469,008.
Meanwhile, the reports indicated that students at 26 million strong, are the highest registered voters by occupation ahead of tomorrow's polls, while 15 million farmers and 13 million housewives are the second and third-highest registered voters respectively.
The electoral body further stated that business people expected to participate in the elections are 12 million, and similarly traders are 8 million.
Registered voters who belong to other occupations are 7 million. Civil servants and artisans are 5 million each, while public servants are 2 million.