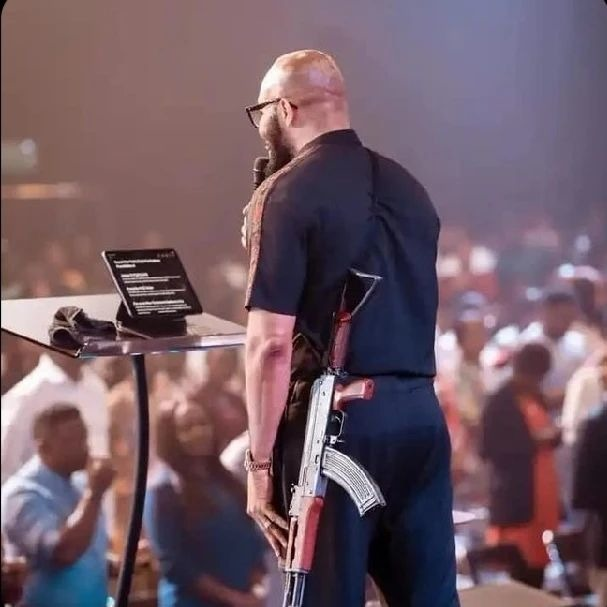 By Kingsley Omonobi
The Pastor, House on the Rock Abuja, Uche Aigbe, has apologised unreservedly to members of his church and Nigerians for mounting the pulpit with an AK-47 rifle.
Pastor Aigbe said he was disappointed in himself for not considering the consequence of bringing the firearm to give a display of a passage of the scripture in the church.
Recall that the pastor mounted the pulpit with the rifle while addressing the church during the sermon, titled 'Guarding the Faith.'
In his apology, Pastor Aigbe told his congregation: "I stand before you with a deep sense of sobriety and contrition as I humbly address the event of last Sunday at the second service which most of us were a part of, where I used an unloaded firearm to illustrate some texts from the Bible regarding the good fight of faith.
"Of course, like you all know, it has caused a lot of embarrassment and pain to the entire church family, to you House on the Rock (The Refuge), to my immediate family and, of course, to myself.
"The decision that I made to use that firearm was not thoughtful. It has left me disappointed in myself. My action has been very traumatic for me, my family and, I am sure, for many of us. And I trust that we will never ever experience such again.
"I want to thank you all for your prayers, love, empathy, goodwill messages and emotional support during this traumatic period. As Christians, in time of such trial that I have presently experienced, I have learnt opportunities to grow in grace.
"I appreciate the love of our Heavenly Father who never leaves us nor forsakes us. He has promised us that no matter what happens, He will always be with us.
"To this end, I have consulted as necessary and with acceptable guidance from the senior leadership of the church. And I would like to humbly ask for your permission to take some time to pray, meditate, reflect and also to heal from all of the things that happened and its consequence."
"Notwithstanding, I will always be in church on Sundays and Wednesdays to worship with you. Let me say that I bear no grudge against anybody in my heart. If I have offended you, please forgive me. God is God and He will always remain our Father. So let's remain resolute in our faith and trust in God.
"Let's continue to labour in the house and not allow the enemies to deter us in any way. I also believe God for a peaceful election on Saturday and the weeks after that."