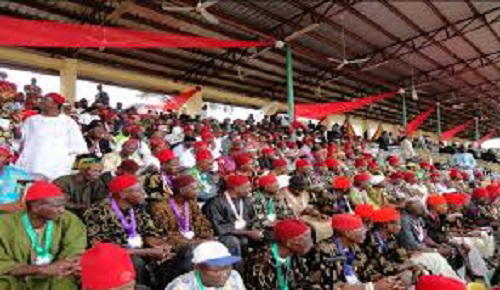 …Throws weight behind Obi 
While throwing their weight behind the presidential ambition of Peter Obi, the umbrella body of Igbo organizations globally, the Igbo World Assembly, IWA, has called on Ndigbo across the country to ignore calls to boycott the 2023 general elections in Nigeria.
Making the call during a world press conference at the weekend jointly addressed by Christian Onuorah, IWA, Vice Chairman and Oliver Nwankwor, Secretary General after their global zoom teleconference with optimism noted that Obi if elected would make positive changes in the Nigerian political history.
The Igbo Diaspora group from 35-member countries disclosed that they voted unanimously to endorse and support the Nigerian Labour Party Presidential Candidate Peter Obi and the Vice Presidential Candidate Senator Yusuf Datti Baba-Ahmed in the Nigerian Presidential election.
According to IWA, "We have taken critical and extensive view of the major political parties, their candidate's track records, characters, capacity and capabilities, and party manifestoes, before unanimously voting for the endorsement of the Labour Party presidential candidates. Obi and his running-mate , Datti Baba-Ahmed as the next President and Vice President of Nigeria. We insist that Nigerians should come out to participate in the democratic election without fear or favor and vote for Obi and his running-mate".
The choice of Obi, according to IWA, has generated widespread acceptance by many Nigerians, particularly among the Youths and Women worldwide given the fact that he is the only governor that is not in the radar of the Economic and Financial Crimes Commission, EFCC,
"We strongly believe that Obi's victory will turn things around for better. Nigeria is a consumption economy. Obe has been preaching against that. The positive energy, hope and faith in a new Nigeria will be ushering in the spirit of committed resolution to Nigerian challenges", the group noted.
According to the Diaspora group, Obi has the track record for standing up for the rights of all Nigerians and is working tirelessly as he did during his tenure as Anambra State Governor to improve the lives of all Nigerians.
" He fought corruption as a State Governor, left money in account instead of debt and promoted good governance. He has shown that he is committed to good, financial, anti-corruption, transparency and accountability in governance. . He has commitment to work tirelessly in ensuring that the resources of our nation are used for the benefit of all its citizens.
"Obi achieved massive economic growth in Anambra as a Governor and has plans for economic growth and development aligned with fairness and justice, and will help lift millions of Nigerians out of poverty. Lifting Nigeria from Consumption to Production", the group pointed out.
According to IWA, "Obi took education in Anambra to the top in Nigeria within a very short time. He built the best network of roads in Anambra state when compared to the rest of Nigeria. By extension, Obi has
a clear vision on how best to address the challenges facing our nation especially security and economic challenges. He has the experience and leadership skills to implement them"
Obi's track records, core beliefs and principles including respect for constitution and rule of law, respect for human right and civil rights, respect for the federal character commission rules, merit based appointment to government positions, firm knowledge and competent management of Nigeria's economy, detribalized appointments and leadership in all sectors of the government, and many more, according to IWA in the statement were convincing factors why he should be elected for Presidency.
"As leaders in the Diaspora, we have been craving for good governance. We believe that Obi is the right candidate that will lead our nation to a brighter future. We urge all our brothers and sisters in Diaspora in particular and Nigerians in general to join us in supporting, voting for him and working together to ensure a better new Nigeria for all", the group added. .
With optimism, the Diaspora Igbo group further noted that Obi as President would effectively and decisively confront the security menace facing the country, adding that during his 8 years in Anambra State as Governor, he implemented zero tolerance on security.
"Anambra State was adjudged the safest State in Nigeria at that time. He will do the same as the President of Nigeria. Among the Presidential aspirants, Obi is the only corrupt-free contestant. IWA is convinced that he will bring the cost of governance down and will honestly fight corruption to a final stop. Obi if elected will stop fraudulent activities and embezzlement in government, nepotism and mediocrity in government, among others.
"IWA considers the opinions of the youths to be vital because the youths constitute the largest majority of the Nigerian population and must be factored into the political future of the country. Obi's exemplary engagement with youths and women manifested the overwhelming support from the segments.
"Obi is a tested rare breed with leadership qualities, capacity and capability that Nigerians need now as President. His remarkable achievements in Anambra will attest to this. Accountability, responsibility, transparency and rule of law that he demonstrated during his tenure as Anambra state Governor are benchmarks required for the president of a new Nigeria, the group explained.