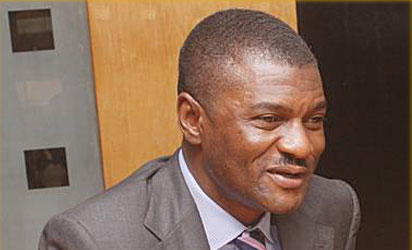 Frank Nweke Jr
By Ikechukwu Odu
The gubernatorial candidate of the All Progressives Grand Alliance, APGA, in Enugu State, Frank Nweke Jr, on Saturday alleged that the Igbo race is facing an existential threat in Nigeria.
Nweke who was a former Minister of Information equally said that the Igbos, through late Alex Ekwueme, created the People's Democratic Party, PDP, under the principles of justice and egalitarianism but were pushed aside despite their fidelity to the Party for 24 years.
He made the statement at the university town of Nsukka in Enugu State during a town hall meeting organised by the Justice Development and Peace Commission, JDPC, of the Catholic Diocese of Nsukka, for gubernatorial and Enugu North Senatorial District candidates across all parties.
Nweke equally said that there was no major regional project conceived and executed in South East when PDP was in power despite the fidelity of the people of the zone to the Party.
He regretted that the Igbos have been grossly marginalised in Nigeria despite their contributions to national development.
He also lauded the Catholic Diocese of Nsukka for the political education of the people, adding that there is a new awareness which would shapen the political landscape of the people for good.Talking about his manifesto, he said "What our people need are good water, roads to ply on to bring out our agricultural produce. We need adequate security of our lives and properties. We want to engage in mechanised agriculture to produce enough food for our people because many are very hungry. Our primary school teachers are neglected not minding the important roles they play in our educational sector.
"I will pay maximum attention to employment. I want to create enabling environment for businesses to come to Enugu and for those that are already on ground to stay so that there would be employment for our people. This would require intensive marketing of Enugu to make this place attractive to investors.
"We are yet to benefit maximally from the University of Nigeria, Nsukka, because most of the people who graduated from here go out in search of greener pastures. We can make Nsukka our technology hub. As a matter of fact, Nsukka is yet to achieve its potential as the alternative city in Enugu. It has to be invested in so as to make it an alternative city in Enugu. UNN was built in 1960, so, leveraging on it, Nsukka can become a technology hub to engage our young ones through Information Technology.
"Regrettably, despite the abundance of natural water endowment, we still live in scarcity of it. The federal government has dammed the Adada River. What is needed is just to channel it and reticulate Nsukka. I want to assure you that there would be water in Nsukka within 12 months of my administration."
The town hall meeting was also attended by the Enugu State governorship candidates of Labour Party, Barr. Chijioke Edeoga; All Progressives Congress, APC, Uche Nnaji; the National Rescue Movement, NRM, Elochukwu Mamah; and equally the Enugu North Senatorial candidates of APC, Ejike Eze among others.