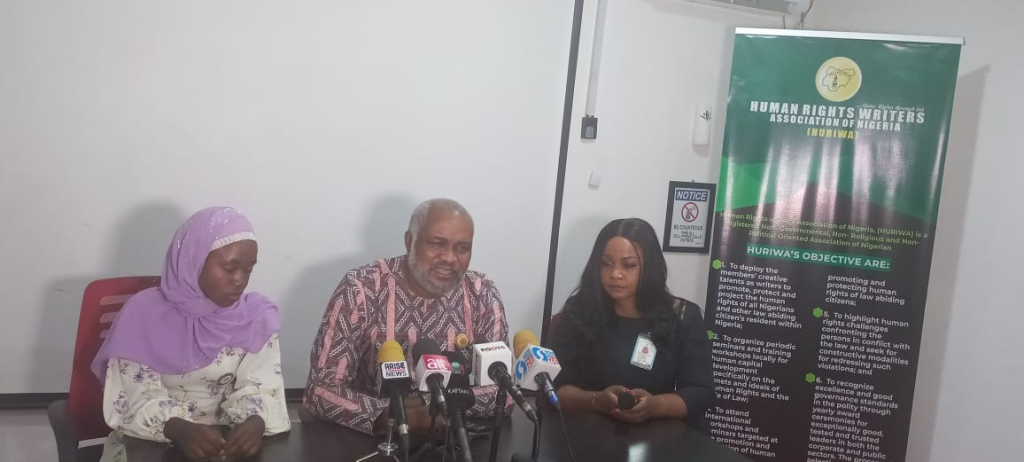 By Fortune Eromosele, Abuja
Civil rights advocacy group, Human Rights Writers Association of Nigeria, HURIWA on Friday, condemned recurring attacks on political opponents and non-members of the ruling All Progressives Congress in Ebonyi State.
HURIWA, in a statement read at a media briefing by its National Coordinator, Comrade Emmanuel Onwubiko, urged the Inspector General of Police, Usman Baba to change the Police Commissioner in the state, Aliyu Garba for alleged complicity and for reportedly working in cahoots with the Ebonyi State Governor, Dave Umahi; and the ruling APC in the state to terrorise opposition parties.
The group described as anti-democratic tendencies in open display in Ebonyi and vowed to petition foreign missions particularly the United States, the United Kingdom and Australia on the heightened levels of threats to the lives of political opposition politicians in Ebobyi State.
HURIWA vowed to call for visa restriction against Governor Umahi, if within seven working days, there is no significant improvement in the respect to the fundamental human rights of all politicians irrespective of affiliations.
The group also condemned the use of state-owned security outfit, Ebubeagu, to intimidate political opponents of Governor Umahi of the APC in Ebonyi.
Onwubiko said, "The governor has also spewed politically intolerant utterances ahead of the February 25 and March 11 general elections like the one he said on November 7, 2022 on Channels Television when he said there is no other political party in Ebonyi apart from APC and told opponents to shut up.
"Cases abound of political intolerance in Ebonyi by state-sponsored police and Ebubeage officers. The police once dispersed Peter Obi's supporters during a solidarity march in Abakaliki mid-September. The Labour Party candidate for the Oyi constituency at the Anambra State House of Assembly, Mr Obinna Okafor, once accused Umahi, of sponsoring the 'attack' carried out on the supporters of Peter Obi.
"In January, an All Progressives Grand Alliance supporter in Ebonyi State, Amobi Ujar was allegedly framed up and beaten to a pulp by members of the Ebubeagu Security Outfit in Enugu.
"Abakiliki-based journalists like Godfrey Chikwere, Peter Okutu, Agwu Chijioke, amongst others were all arrested and victimised by the governor using state-sponsored security agencies.
"Labour Party candidate for the Ebonyi South District, Linus Okorie, has been repeatedly victimised, abducted, arrested and remanded through state-sponsored security agents."
Onwubiko condemned political violence and warned against any form of violence ahead of the 2023 general elections.
He said, "Political violence of any form is an offence under the Electoral Act 2022 and a crime under extant criminal laws in Nigeria and its manifestations should therefore be arrested immediately as it endangers national security amid the forthcoming elections.
"HURIWA condemns the harassment, intimidation, killings of political opposition in Ebonyi State and the criminal and anti-democratic and unconstitutional activities of Ebubeagu in Ebonyi as a tool against opponents of the governor.
"We call on the IGP to change the commissioner of police in Ebonyi who is accused of compromising his neutrality and allowing the criminality of Ebubeagu to continue. We also call on the National Assembly, the DSS, the National Security Adviser, President Muhammadu Buhari to take steps to curtail the excesses of these barbaric outfit that has derailed.
"As a group, we also demand for independent investigation of all the allegations of politically motivated killings in Enonyi State and ask the outgoing governor to be a democrat and allow for freedom of expression and information and freedom of movements by all political contestants in Ebonyi State.
"HURIWA will not hesitate to write to the USA, UK Australia on the heightened levels of threats to the lives of political opposition politicians in Ebonyi State and call for visa restriction for the governor if within seven working days there is no significant improvement in the respect to the fundamental human rights of all politicians irrespective of affiliations."