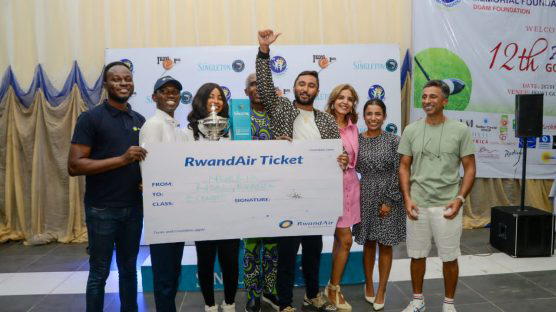 By Olasunkanmi Akoni
H.M Vaswani, 21, has emerged as the overall winner of the 2023 Daniel Ogechi Akujobi Memorial (DOAM) Foundation Golf Tournament competition after a scintillating golfing experience.
Vaswani, a handicapper, returned a 64 net score at the Golf Section of Ikoyi Club 1938, in Lagos.
Aby Mathew, another 21-handicapper, finished with 70 net, six strokes behind him to pick the runner-up spot. Trishul Ganglani, a 17-handicapper, finished third on count-back to claim the second runner-up spot.
Vaswani carted away, beside the much coveted winner's trophy, but also, a 540-litre model 2022 Double-Door Thermocool Fridge, an engraved bottle of Singleton Whisky, an Omron M2 Blood Pressure Monitor and an Economy Class return ticket to Kigali, Rwanda, courtesy of RwandAir.
Vaswani in his reaction said: "I feel so happy to have won at this time and fully identify with the achievements of DOAM Foundation in touching the lives of the less privileged in our society.
"I applaud the organisers for their consistency in maintaining the high standards that we have come to know and enjoy about the tournament.
"It is good to be a part of the sponsors and know that funds are judiciously used in empowering the Foundation in doing charitable works."
He commended the DOAMF Team and the Ikoyi Club Golf Section, for the quality of organisation and impact they are making in touching lives with donations from the annual tournament event."
In the ladies' category, Patricia Olinma won the overall winner with a 69 Net score to beat Pat Okoronkwo, the runner-up, by one stroke. Lola Ajibola finished as the second runner-up with a 72 Net score.
Olinma, in addition to the Ladies' Champion trophy, was rewarded with a two-night Romantic Offer at Epe Resort Package by Vacation Places, an Omron M2 Blood Pressure Monitor and an engraved bottle of Singleton Whisky.
Other winners at the event included; Remi Olukoya, who shot 79 to pick the best gross prize, beating Tim Maguire and Tony Oboh who finished in second and third places respectively.
The event featured a field of 150 players, in a strong show of support for the tournament.
The tournament ended with a cocktail party and prize-giving event in the evening, at which sponsors and golfers interacted while the Foundation showcased its programmes and achievements to date.