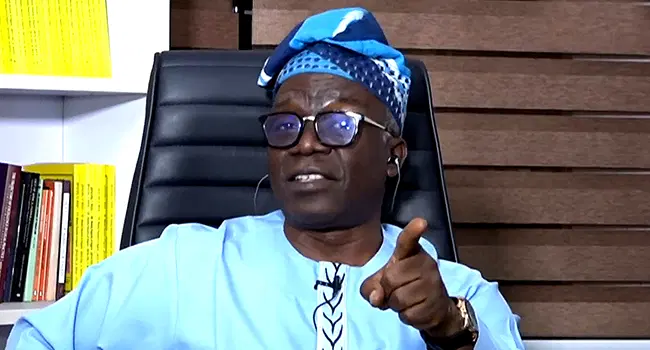 .As Lagos Police boss declares readiness for hitch-free gen polls
.Why I want to govern Lagos-NNPP guber candidate
By Olasunkanmi Akoni   
Human rights lawyer, Femi Falana, General Manager/ Editor–In-Chief Vanguard Media and Provost Nigerian Institute of Journalism, NIJ, Gbenga Adefaye, civil society, as well as stakeholders have tasked the Independent National Electoral Commission, INEC, to ensure a free, fair and credible exercise in the February 25, March 11 general polls in-order to engender good governance in the country.
They made the call, Wednesday, at the Societal Concern/ NIJ, Town Hall Symposium with 2023 Lagos State Gubernatorial candidate, held at Ogba area of Lagos State.
The theme of the programme was tagged, "Nigeria Exhale, clarion call for good governance."
New Nigeria Peoples Party, NNPP, Lagos Gubernatorial candidate in the March 11 poll, Otunba Olarewanju Kamal, his counterparts from Oyo State, Tunde Okunade and Ogun State, Olufemi Oguntoyinbo, Lagos State Commissioner of Police, CP, Abiodun Alabi, Deputy Provost, NIJ, Dr. Dele Omojuyigbe, Head of Department General Studies, NIJ, Adeboye Ola, comrade Tunde, representatives of National Youth Council of Nigeria, students, among others attended the programe.
Falana, who was one of the speakers, was represented by Lagos State Chairman of Committee for the Defence of Human Rights, CDHR, comrade Kehinde Adeoye.
According to Falana, "Nigerians have gone through a lot and nothing short of free, fair, credible election which can guarantee good governance for what patriotic Nigerians look forward to
"We implore the umpire of the 2023 general polls, INEC, to ensure that the rule of the game is strictly adhered to, no compromise, no corruption. Also, political parties must play the game according to the rules and INEC provides the level playing field devoid of harassment, intimidation of voters, among others. Any person or party that does not win, four years is not eternity.
"I also call on the media, the fourth estate of the realm to perform their duties professionally as the eyes, the nose of the public as well as the civil society, which is one of the pillars of democracy, as stipulated by the universal declaration of human rights-Geneva 1949."
He identified three factors as hampering good governance in the country to include; Insecurity, economic strangulation and political intolerance.
"If we must have good governance in Nigeria, this is the time we must all rice up. We all have a role to play. Get your PVCs, this is the time to elect those who will take us to the promise land.
"If you don't vote, you don't have the constitutional right to condemn or challenge any bad government in authority. It's necessary to vote for the right candidate for good governance."
Also, CP, represented by Assistant Commissioner of Police, ACP, Operations, Oludotun Odubono, spoke on the topic; "The security of citizens during the election."
Alabi, who said adequate preparation has been made to ensure a hitch-free exercise in Lagos, enumerated three phases in ensuring a hitch free exercise in any polls, which are, pre, during and post operations.
He disclosed the police command has mapped out all strategy to curb any form of unrest or violence before, during and after the polls.
According to Alabi, "The state police command has undergone series of orientation programmes conducted by INEC to ensure a hitch free exercise. Stratrgyn already in place to checkmate any unrest or illict act during the exercise. Raiding of black spots is ongoing to prevent possible violence during the poll.
"In the next two weeks, the police will embark on a stop and search operation on motorists to checkmate any movement of arms and ammunition by criminals.
"We call on Nigerians to be vigilant and inform the security personnel promptly of any suspicious movement.
"We are also in collaboration with our sister agencies to support and collaborate with us in providing adequate security during the exercise."
Adefaye, had earlier in his remarks, stressed the need for INEC to ensure a hit-free exercise without bias inorder to ensure credible leaders emerge to lead Nigeria to greater heights which Nigerians have been craving for.
"This event is to raise the consciousness on the constitutional responsibilities to ensure free, fair credible exercise," he added.
Adefaye, therefore, urged Nigerians to eschew all forms of violence during the exercise but obtain their PVCs as weapon to elect credible leaders for the new Nigeria, saying, "Good Governance is the key to a nation's progress."
The Director, Societal Concern and a student of the institution, Oluwayomi Jegede, said, "It is my pleasure to host the program today 'societal concerns Symposium '. On the platform of Pen radio, a community radio station owned by the NIJ.
Societal concern is a youth- centered program, the motive is to stimulate societal renewal and re-orientation, redirecting young Nigeria citizens towards a better community, growth and national development.
"Our expectations as citizens, is to have a government that is committed to providing a transparent and accountable administration that can work for the betterment and welfare of the common citizens.
"This event comes at a time of renewal of power and vigor. Let us use this opportunity to address the country's long-standing governance challenges."
NNPP guber speaks on vision for Lagos
The NNPP guber candidate in Lagos, Kamal, in his address unveiled his five fundamental pillars his administration will pursue if elected as the next governor of Lagos.
He said the major reason why he wanted to govern Lagos is to reposition governance to where it should be for the people, irrespective of class, sex, tribe or religion.
He enumerated the five pillars to include: Automated free e-education for all, automated free health services at all levels, infrastructure facility to be developed into International standard, social security/women emancipation/ youth empowerment as well as total restructuring.
To achieve all these, Kamal said, "Lagos is buoyant enough to fund the projects adequately without obtaining any loan.
"I know where the money is, the IBILE holdings of Lagos State, created by former Lagos State Governor, Lateef Jakande, is still intact. It has about 400 Trillion untapped funds in the coffer.
"I urge every Lagos resident to get their PVC, it is their poewer to vote in the right leaders for a new Lagos and Nigeria,"