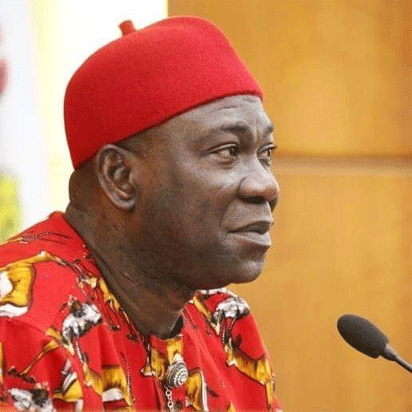 Ekweremadu
.
Nigerian senator, Ike Ekweremadu who is on trial for allegedly exploiting a 21-year-old to come to London and donate a kidney appeared in court yesterday.
Ike Ekweremadu, his wife Beatrice, their daughter Sonia, 25, and an associate, Dr Obinna Obeta, 50, allegedly broke modern slavery laws.
The Old Bailey heard yesterday that Ekweremadu illegally paid a street trader from Lagos, to travel to the UK, for a donation to help Sonia, who suffers from a kidney disease.
The defendants denied the charges.
Opening the case, prosecutor Hugh Davies KC said Ekweremadu's "status and influence had produced a significant degree of wealth."
The family from Willesden Green, north-west London, had "international connections," he said.
Sonia Ekweremadu's condition, he said, could have been alleviated or cured by a kidney transplant and the family was "close, open and loving," with a "direct interest in Sonia's medical treatment."
But, he told the jury that rewarding someone for a kidney donation was illegal.
He said there was an "obvious risk that those providing organs for transplantation for reward are likely to come from the poorest and most vulnerable sections of society."
The defendants have been charged under modern slavery legislation which makes it an offence to "arrange or facilitate the travel" of a person to the UK for exploitation.
This offence carries a higher potential sentence of life, compared to a maximum of three years for illegally making an organ donation.
The alleged victim, who cannot be named for legal reasons, was recruited from the street markets of Lagos, the court heard, where he had a cart and sold mobile phone parts.
He was from a remote village and did not know his exact age, so he "adopted" a date of birth which would make him around 22 now, jurors were told.
The court heard he was given medical tests in Nigeria to assess his suitability as a donor before being flown to the UK.
He was allegedly offered the equivalent of '2,400 plus the promise that he could live and work in the UK.
"To him," Mr Davies said, "a street trader from Lagos, these sums and rewards were significant."
Jurors were told the alleged donor did not understand until his first appointment with a consultant at the Royal Free Hospital in Hampstead that he was there to donate a kidney. transplant transplant.
He was said by the consultant to have "limited understanding" of what he was there for and was "visibly relieved" on being told the transplant would not go ahead, the court heard.
Mr Davies told the jury that no potential donor would have done it without some form of reward.
He said that "elaborate steps were taken to create the wholly false impression that [the alleged victim] and Sonia Ekweremadu were cousins."
"None of this would have been necessary if this was a straightforward, genuine, altruistic kidney donation. It was not. It was criminal."
"In the real world, altruistic donors are an exceptionally rare commodity."
They were, Mr Davies said, "often young, intrinsically economically disadvantaged young men."
He said that Mr Ekweremadu and his associates began a search for a donor among "economically vulnerable people" in Nigeria with the right blood and genome types.
Candidates were invited to the Nigerian capital Abuja for testing, the court heard.
The alleged victim was recruited by a previous organ donor he knew from the street market and plans were made to bring him to the UK, including obtaining a passport, jurors were told.
The prosecution said the potential donor for Sonia Ekweremadu believed he was undergoing medical tests as part of a visa application to go to London to work.